Max Verstappen is World Champion
Max Verstappen won his first World Drivers' Championship at the end of one of the most dramatic title-deciders in Formula One history, passing rival Lewis Hamilton to take the lead and the race win on the last lap of a thrilling Abu Dhabi Grand Prix.
With 54 laps of the race gone and with Hamilton in an apparently comfortable 11 second lead, Max's chances of world championship glory appeared to be over, but when Williams' Nicholas Latifi crashed out and the safety car was released, Max was handed another chance.

Max pitted, took on soft tyres and when the safety car left the track he pounced and roared past Hamilton at turn five, though the Briton fought back on the following straight. However, Max held on to take his 10th win of the year and more importantly his first world championship crown and the team's first Drivers' title since 2013.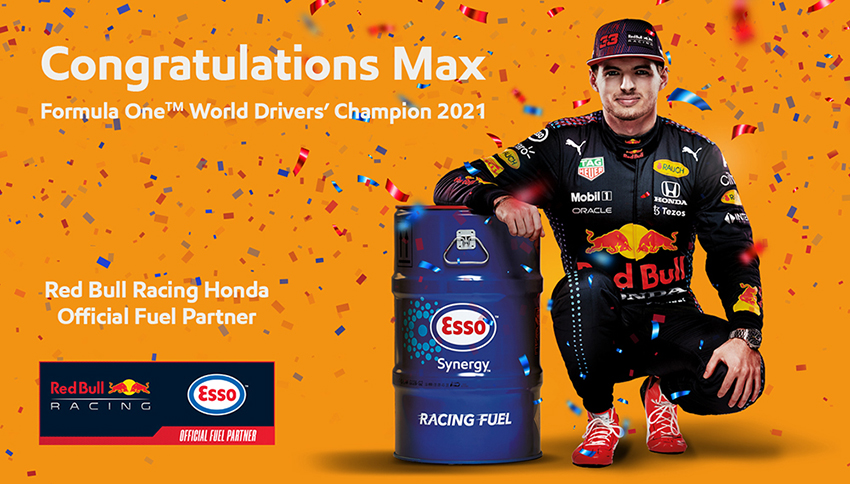 At the start, Hamilton was better off the line and overhauled the advantage Max had gained in claiming pole position and the Mercedes driver took the lead into turn one. Behind them, Sergio made a good start and stole third place from McLaren's Lando Norris who ran wide.

Having lost the lead, Max slotted into the slipstream of Hamilton and closed up to the Briton on the run to turn seven. He attacked with a move down the inside and Hamilton went wide. The Mercedes re-joined the track in the lead and the incident prompted the steward to take a closer look with the officials' deciding no investigation necessary.

The Briton then set about building a gap to Max, who soon began to suffer on his starting soft tyres. By lap 13 the Dutchman was five seconds behind his title rival and complaining that his rear tyres were really hurting.

That was the cue for the Dutch driver to head towards the pit lane and in a 2.1s stop he took on hard tyres and re-joined in P5 behind Norris. He quickly got past the McLaren and then set about chasing down Carlos Sainz.

Mercedes reacted to Max's stop by pitting Hamilton at the end of lap 14 and he took on hard tyres in a 2.4s stop, re-joining in P2, 11 seconds behind Checo. Max soon claimed P3 by comfortably dismissing Sainz, as ahead Hamilton began to reel in Sergio.

The Mercedes driver closed the gap over the next six laps and with DRS support he attacked on the pit straight, passing the Mexican with apparent ease. Checo was not easily dismissed, however, and in the following DRS zone he powered back past the Briton to reclaim the lead.

Checo's brilliant defence was all the time allowing Max to churn through his own deficit to Hamilton. And when the Mercedes finally made it past Sergio under DRS on the next lap, Checo gave Max a quick tow and then moved aside to let Max power through into second place behind Hamilton once more, with both now on hard tyres.

Discussing his race, Sergio Perez said: "First of all, I'm extremely happy for Max and for this Team because they have worked so hard throughout the year and for many years. Max really deserves this Championship with the level he has driven at. I'm very happy to contribute to his title, he's been a tremendous teammate and a great guy, I couldn't be happier for him.

"Lewis was in control of the race and Max was 10 seconds or so behind so I am extremely happy I could do something to help the outcome. I was on extremely old tyres so there was not much I could do but I managed to take a couple of seconds of out of Lewis, which was critical and had an impact on the race.

"You don't want to get involved in their Championship and their battle, they've worked so hard for to be in this moment, but this is my Team, I did that for my Team and for Max.

"I think finishing second was possible for me today with the way the race ended up concluding, but I had to retire because my car was not looking great and it could have ended up creating another safety car. It's a shame in the end that we didn't get the Constructions title, but I'm extremely happy with the job we've done this season."



As the second stint evolved, Hamilton began to slowly draw away from Max and by lap 33 he was five seconds ahead of the Red Bull driver.

However, the complexion of the race changed on lap 36 when Alfa Romeo's Antonio Giovinazzi pulled over at the side of the track with gearbox issues. The virtual safety car was deployed and with Hamilton staying out on track, the Team quickly called Max in for a fresh set of hard tyres. Checo also pitted under the VSC and he re-joined in third place.

Max re-joined almost 17 seconds behind Hamilton and when the track went green the Red Bull driver began to close on the Mercedes at the rate of eight tenths of a second per lap.
But as the final stint unfolded it became clear that the pace in the new tyres wouldn't be strong enough to put Max close to the Briton.

With 10 laps left he was 12 seconds behind the Mercedes and running out of time. But races are never over until they're over and on lap 53 the pendulum swung back towards Max.
Williams' Nicholas Latifi crashed and the safety car was released. Max immediately pitted and the team fitted a set of soft tyres as Hamilton stayed on track. It looked like the race might finish under the safety car, but on lap 57 race control decreed that the five cars on track between Hamilton and Verstappen would be allowed to unlap themselves and that the safety car would come in to allow a single lap of racing.

And when the track went green Max was immediately on the attack. He closed on Hamilton on the run to turn five and with a brave dive down the inside he claimed the race lead.

Hamilton fought back on the next straight and drew alongside the Dutchman and almost got past, but Max held the line, held his nerve and kept the lead until the finish line and the chequered flag. Formula 1 has a new world champion.

On his championship-winning performance Max Verstappen explained: "It feels incredible to be World Champion and I couldn't have asked for a more insane last race of the year. It was a bit of a rollercoaster, from not really having a chance of winning until the last lap, everything came together, and we had to go for it.

"I kept saying to myself, I am just going to give it my all and I have until the end and that is what we did. Of course, with that safety car restart in the last lap we had the fresher tyres but you still need to do the move – luckily it worked out.

"I want to say a big thank to Checo, because of his performance today, I won the Championship, he was driving his heart out for this Team. Today showed exactly what great teamwork is, he's an amazing teammate.

"Mercedes won the Constructors' and we won the Driver's Championship so it really shows that throughout the whole year we pushed each other to the very end. Lewis is an amazing driver, there is no discussion about it. Of course, we had our moments throughout the season but I think you know that after everything we had an amazing fight this season and I think both teams gave it their all."

Earlier this year, ExxonMobil revealed a next generation Mobil 1 RB16B Engine Oil designed specifically for the Honda power unit alongside a new Esso Synergy Race Fuel upgrade in collaboration with Red Bull Racing Honda and Honda Research and Development.

The combined Mobil 1 lubrication and Esso Synergy race fuel package helps to deliver maximum efficiency and reliability with compromising performance to Max Verstappen's championship season. Watch the video and discover how ExxonMobil contributed to Max's maiden championship:
On the dramatic day Team Principal Christian Horner commented: "I said it was going to need something from the racing Gods in the last ten laps and thank goodness for that safety car. It has been a great competition this season and for Max to win the World Championship, it is not just about the race here, it is about the whole year and how incredible and consistent he has been as a driver.

"All credit to Lewis too, he has been a phenomenal opponent all year and a great World Champion, he has been formidable and that is what makes it even more of a monumental achievement to win this.

"This Championship came down to the last lap and it was a great strategy call by the Team to make that pit stop onto the set of softs and then it was down to Max to make it happen, which he did in typical Max style. I was screaming from turn five all the way down that back straight. He got the job done. I am just so proud of Max and the team for what we've been through this year and what we have achieved against some fierce and great opponents.

"Checo was the perfect teammate today, what he did keeping Lewis behind, on totally worn tyres, was just super driving. Without him today Max probably wouldn't be World Champion, the whole Team executed their strategy, flawlessly.

"On balance after 22 races we have won this World Championship on the facts. I would also like to thank Honda for their teamwork and support over the last few years. We will continue our partnership in a different way, but we look forward to continuing the success."

In the Teams' title race, Valtteri Bottas finished sixth and Sergio Perez retired, meaning that Mercedes clinched a record eighth consecutive constructors' championship.

The 2021 season was one of the most compelling in recent years and ExxonMobil will now turn its attention to 2022 to support Red Bull Racing Honda's fight in the Drivers and Constructors Standings.