An epic end to the 2022 season
Max Verstappen stormed to an imperious 15th victory of the season with a dominant drive at the Abu Dhabi Grand Prix that established a new record for most wins in a single season. "Sublime. That's a perfect way to sum the season," said Max's race engineer Gianpiero Lambiase as the double World Champion took the flag after leading all but one lap of the 58-lap race.
Discussing his 15th win of the year, driver Max Verstappen said: "It was incredible to win here again and to get 15 wins in total this season is unbelievable.
"It was a good race, the one stop really worked for me and it was all about tyre management today. As a Team, we did everything we could to get Checo up there ahead of Charles, we had split strategies, but it didn't work out today.
"Overall, we've achieved a lot this year as a Team and we can all be proud of that, its great motivation heading into next year.
We've had an incredible season and I want to thank everyone in the Team out here in Abu Dhabi and back at the factory, this sport requires dedication, and everyone at Oracle Red Bull Racing has that, it's clear to see.
"I'm really looking forward to a break now and I hope everyone has a good Winter and much needed time with family and friends."
With Max in complete control from lights out to the chequered flag, the major excitement in the race was provided by Checo. Locked together with Charles Leclerc in 290 points, the Red Bull driver needed to finish in front of his Ferrari rival to claim the runners-up spot in the standings and after qualifying on the front row it looked like he had the upper hand.
But while Max was dominant, there was disappointment for Checo as his bid for second place in the Drivers' Championship fell short by just 1.3 seconds.
Talking through his podium finish, driver Sergio Perez said: "I am pleased because I gave it my all today. In the end we just didn't have enough, this is how the sport works, sometimes you win and sometimes you lose.
"It hurts to lose second place in the Championship by one second, there are things we could have done better but at the end of the day what matters is that you never give up in this sport and that is what I have done this season, on and off track, so I can go home happy.
"What really meant the most this season is that we gave everything, always, and we ended the final race doing just that. The Team has had a tremendous year so it is nice to finish the season well, we will regroup and look to another strong year in 2023."
The Red Bulls got away well at lights out with polesitter Max taking the lead ahead of Checo and in the opening stint they slowly began to pull away from the pack.
By lap 10 Max was 2.6s ahead of his team-mate and Checo had carved out an almost three-second gap to Leclerc.
Checo was the first of the frontrunners to stop and he arrowed towards the pit lane on lap 16. He switched to hard compound tyres in 2.4s and after dismissing an Alpine and an Aston Martin, he climbed to fifth place and then rose even higher up the ranks to P3 as Carlos Sainz and Lewis Hamilton pitted.
Max then made his sole pit stop, for hard tyres, on lap 21 and Leclerc was bumped to the lead for a single lap. The Ferrari driver then made his first pit stop and the Bulls were back in the top positions.
As the second stint evolved, Leclerc gradually began to edge closer to Checo and on lap 30 the Ferrari driver was just 2.2s behind. The gap shrank to 1.5s over the following three laps and the Team chose to pit Checo on lap 34. He rejoined in sixth but as rivals pitted around, him he rose to fourth behind Hamilton and was now 18 seconds back from Leclerc.
The Mexican needed to clear the Mercedes driver quickly, but his first attempt resulted in a lock-up and after losing time he was forced to make another attempt. This time he powered past Hamilton into Turn 9 but he was still 10 seconds behind Leclerc, with 10 laps to go.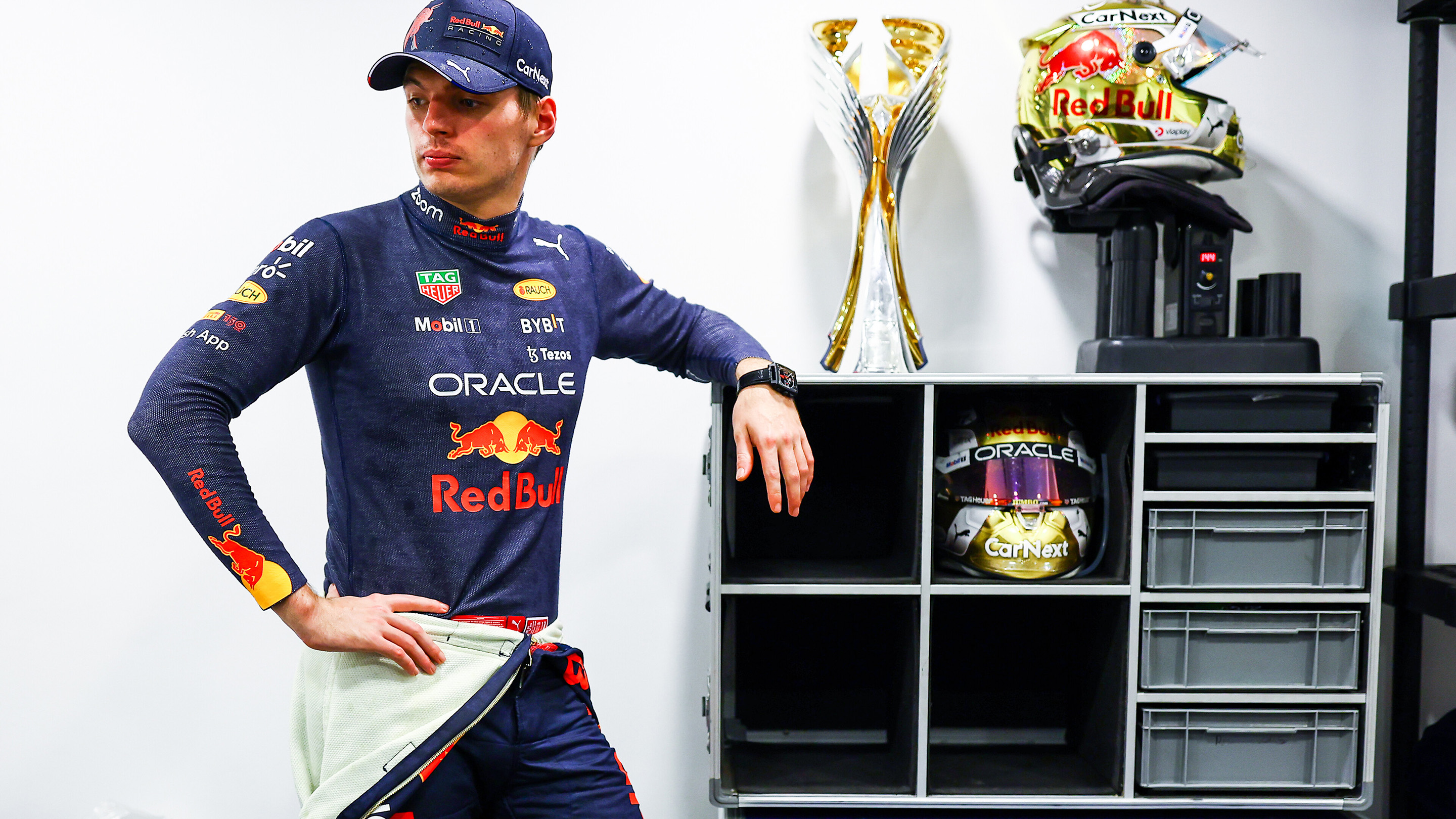 At the front, Max was in complete control and he radioed through to tell GP to relay the message to Checo that he could "go full send, the tyres will be fine".
With five laps left of the season, Checo had narrowed the gap to just over four seconds and ahead of the final lap he closed to within two seconds of the Ferrari. But the Ferrari driver's tyres were holding on and though Checo pushed all the way to the flag he ran out of time and laps to mount an attack, and second place in the Championship ebbed away.
At the front, in a cloud of fireworks and smoke, Max took his record-breaking 15th win of the season with almost nine seconds in hand over Leclerc. The Ferrari driver's second place, just 1.3 seconds ahead of the hard-charging Checo, sealed P2 in the standings, three points ahead of the Red Bull driver who claimed his 11th podium finish of the season.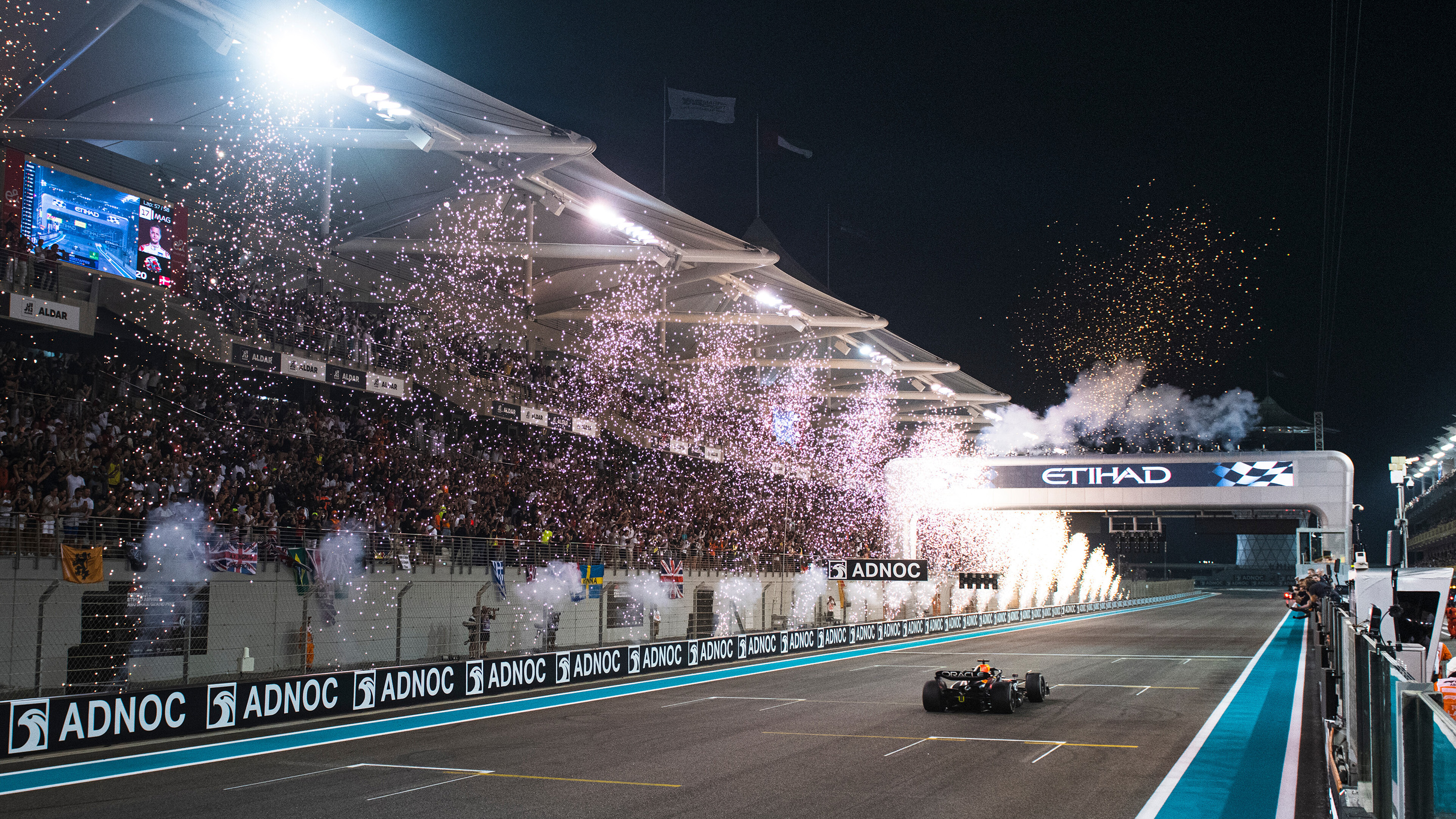 Commenting on the team's performance, this season, Team Principal Christian Horner said: "What a season and what a way to end it. It's just unbelievable.
"Winning 17 races as a Team. Five 1-2 finishes and being so close to 1-2 in the Drivers' Championship brings to an end what truly has been a remarkable year. It surpasses anything we have ever achieved. The drivers have been exceptional. A record-breaking 15th win this season for Max. A third straight victory in Abu Dhabi. Exemplary.
"Checo gave it all he had, coming so close to catching and taking Charles by the end of the race, but sadly it wasn't to be. Third place in the Championship is still fantastic though and brings to an end his best season ever in F1.
"When we reflect on this season, there have been some epic highs and equally sobering lows, but we look back on 2022 as a season like no other, one in which we lost our founder Dietrich Mateschitz. F1 was his passion, his love. We dedicate everything we have achieved this season and the two World Championships to him. Danke Didi.
"Every season in F1 is grueling but it truly has been a herculean effort from everyone this season. From the campus in Milton Keynes, to everyone at track, it has been an immense Team effort. I'd also like to thank our partners who, without their support, none of this would be possible."
The double podium finish means the Team finishes the season with a record 759 points, 20 points clear of the previous benchmark. The Team also ends 2022 with its largest ever win total of 17 victories from 22 races, 28 podium finishes, eight pole positions and two Sprint wins.
2022, thank you for a truly incredible season.