No stopping Oracle Red Bull Racing at Belgium GP
Max Verstappen delivered a Spa masterclass as he climbed from 14th on the grid to take a stunning Belgian Grand Prix victory, 17.8 seconds ahead of Sergio Pérez as the Bulls sealed their fourth 1-2 finish of the season and the Team's 21st overall at Spa-Francorchamps.
World Championship leader Max delivered a crushing drive in front of the massed ranks of the Orange Army and after rising six places on the opening lap alone, the Dutchman roared into the lead after just 11 brilliant laps. The Dutchman then flawlessly worked a two-stop strategy to take his ninth win of the year and the 29th of his career.
Discussing his win, driver Max Verstappen said: "This whole weekend has been incredible. It's never easy though, it was quite a hectic first lap staying out of trouble, so many things were happening in front of me and everyone was trying to maintain their spot.
"After the safety car and when it had all calmed down, we made our way forward by picking the right places to overtake and we could look after our tyres.
"Now we need to keep on working hard and focus on each race ahead of us. We know that we have to finish every race, we don't need to win every race but we want to as a Team. Let's see what we can do in Zandvoort."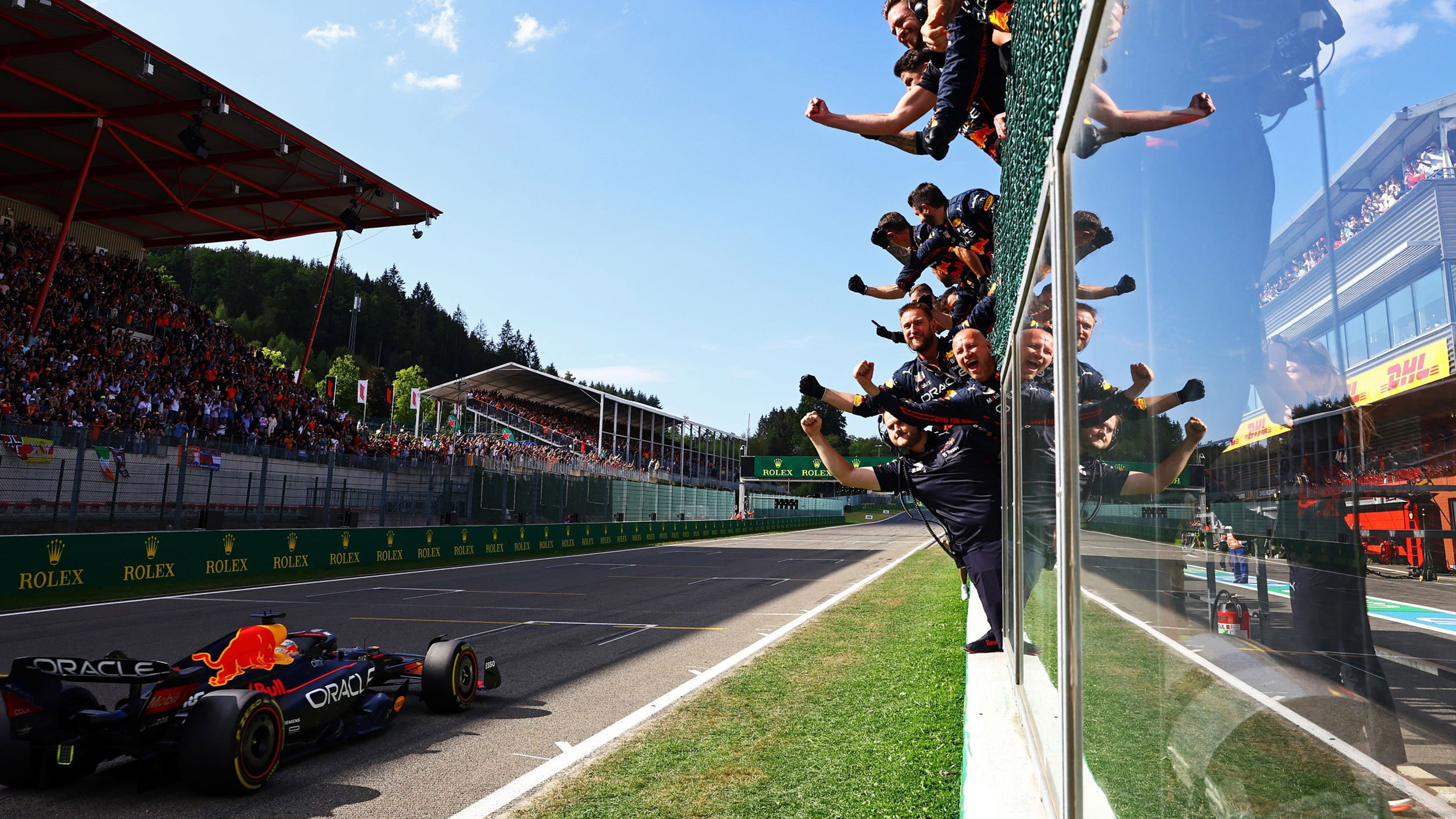 Ahead of the race start, AlphaTauri's Yuki Tsunoda changed power unit elements and his pit lane start meant that Max started from 14th on the grid. A gap appeared on the grid ahead of him just ahead of light out, when Pierre Gasly was also forced to make a pit lane start due to an electric fault.
And when the lights went out, polesitter Carlos Sainz got away well to take the lead. Checo, trying to cover the challenges of rivals behind, lost out at turn one, La Source, and the Mexican was passed by Alpine's Fernando Alonso and both Mercedes.
Checo soon stormed back to second place as the field streamed down the Kemmel Straight. Further back, Max, starting on the grippier, quicker soft tyres made a good getaway, and staying out of trouble in the early phase of the first lap, the Dutchman began to scythe through the field, rising to eighth place at the start of the second lap.
The safety car closed up the field and when the race resumed at the start of lap five, Max pounced. He swiftly passed Williams' Alex Albon at Les Combes and then dived down the inside of Daniel Ricciardo's McLaren into the final chicane to claim P6.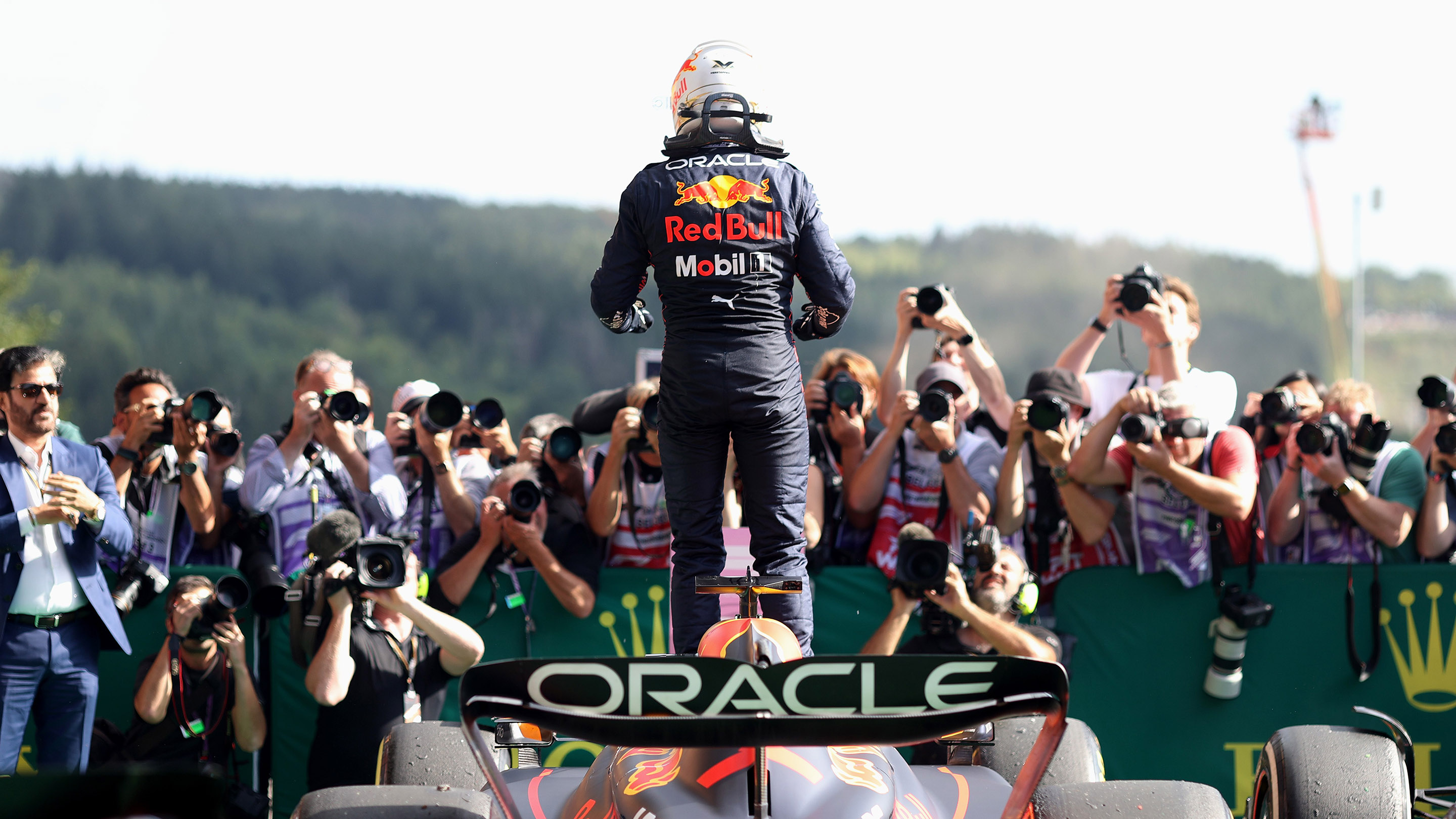 Sebastian Vettel was the Dutchman's next target, and he passed the Aston Martin into the chicane on lap six to rise to fifth. On the next lap, Max closed on Alonso on the Kemmel straight and easily passed the Alpine driver into Les Combes. A remarkable start to the race was completed on the next tour as he blasted past Russell to rise from 14th to 3rd in just eight laps.
Sainz pitted from the lead at the end of lap 11 and Checo powered through to take P1. His lead was short lived, however, and with Max lapping quicker, the Dutchman passed on the Kemmel Straight to take the lead.
Checo pitted at the end of lap 11 and the Mexican took a second set of medium tyres in a 2.2-second stop and crucially the Red Bull driver emerged from the pit lane in third place, ahead of Leclerc.
Max made his first stop at the end lap 15 and switched from opening softs to a set of medium tyres in a 2.8s stop. The champion emerged from the pit lane just behind Sainz.
Max roared back into the lead on lap 18. The Dutchman, with newer tyres than the Ferrari driver, used DRS to power past Sainz on the Kemmel Straight. And within a lap the champion had carved out a two-second lead over the Spaniard who began to slip back towards Checo.
Sergio got within DRS range of Sainz on lap 20 and on the following lap Checo effortlessly slipped past under braking into Les Combes to place the Bulls 1st and 2nd.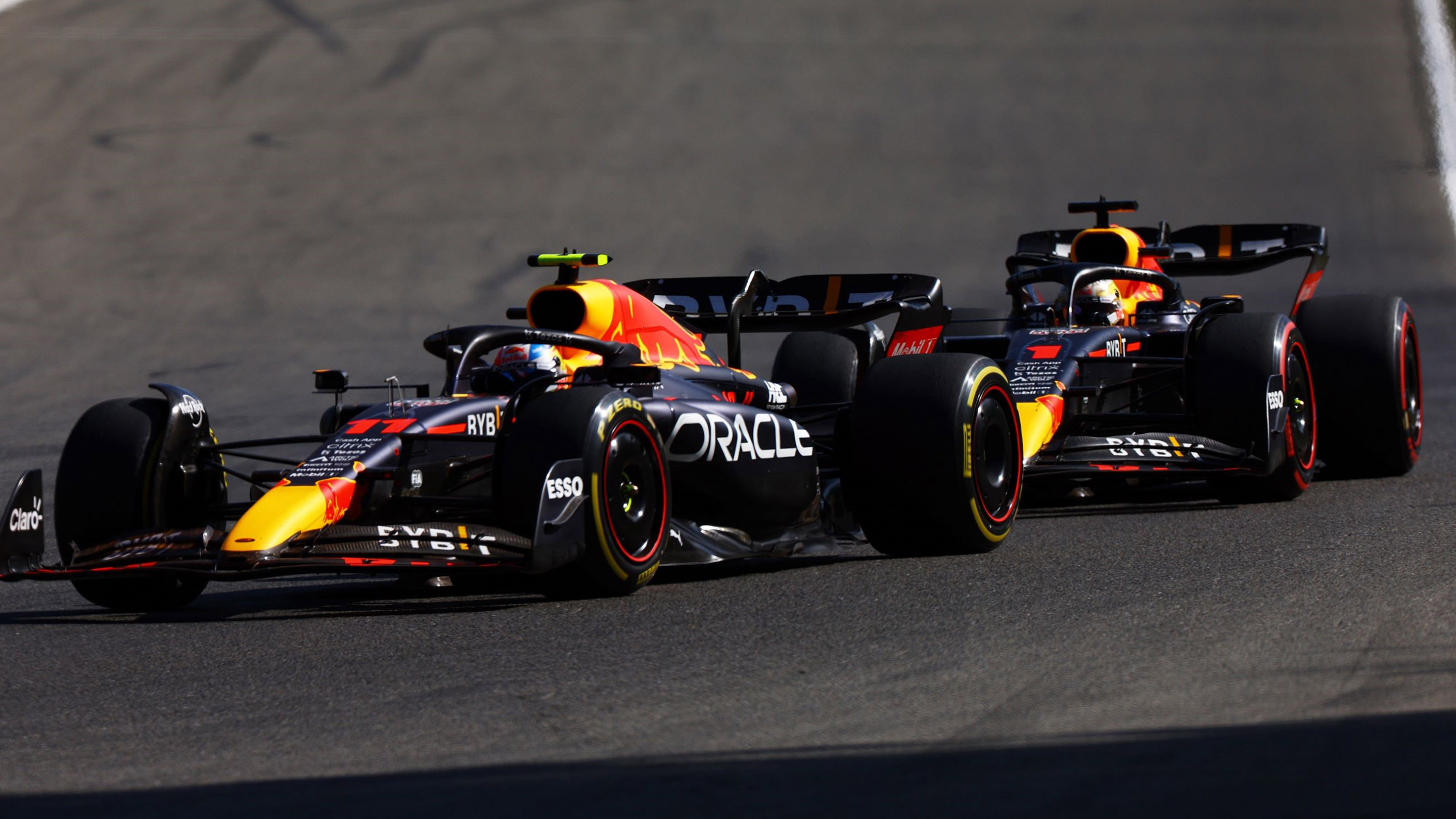 Checo made his second stop at the end of lap 27 and this time the Red Bull driver switched to hard tyres in 2.4 seconds. He re-joined in third place, behind Russell but two laps later the Mercedes driver made his second stop, for hard tyres, and Checo reclaimed P2 behind Max.
Max's final pit stop of the afternoon came at the end of lap 30 and the race leader moved to another set of mediums for his final stint. From there the Dutchman took his ninth win of the season and the point for the fastest lap of the race. Checo took second to complete our fourth 1-2 of the season while securing his seventh podium finish of the year so far.
Discussing his P2, driver Sergio Perez said: "It is a great weekend for the Team and I am very pleased with that because we have been working so hard. Max was on another planet today and so quick, I want to understand my race pace and where I lost out to him, I am aware of the gap and I want to come back stronger.
"I had a really bad start but luckily I was able to rectify it. I went into a lot of wheel spin as soon as I released the clutch and couldn't get any traction, especially when I went into second gear, it meant I lost a lot of positions. I think my first stint wasn't very strong and that really made a difference and determined a lot of my race.
"I need to be at a better level for Zandvoort and Monza. There is plenty to look at and hopefully I go into next weekend even stronger, I think things will be a lot closer there so I am looking forward to it massively. We are going to push really hard."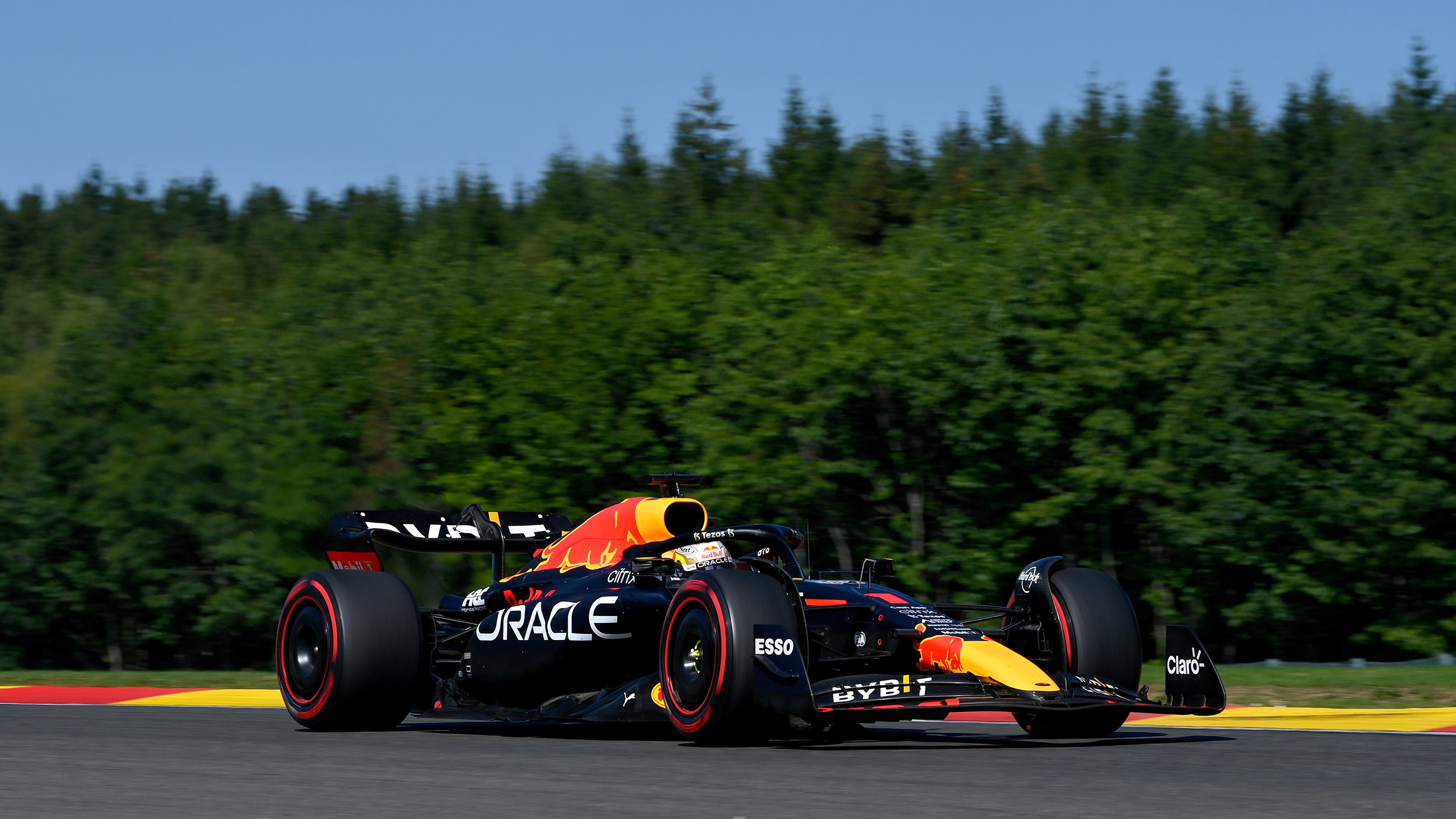 Checo's P2 and Leclerc's P6 means the Mexican now takes second place behind Max in the Drivers' World Championship standings. Max leads with 284 points while Checo has 191, five clear of Leclerc. The Team now has 475 points in the Constructors' Championship, 118 ahead of Ferrari.
Commenting on the team's Spa outing, Team Principal Christian Horner said: "This was our biggest ever achievement to date. We have never won a race from as far back as P14 and to take a 1 - 2 with Checo, along with fastest lap, is an outstanding achievement.
"It's a fantastic win for Max and he has been in a class of his own on the track this weekend but it really is a team victory; for everyone here and all the team back in Milton Keynes.
"There is a lot of hard work that goes in behind the scenes that contributes to a performance like today and would also like to thank HRC for their contribution to this victory."