Magical Max makes it 14 in Mexico
Max Verstappen delivered another Mexican masterclass to take a record 14th win of the season at the Autódromo Hermanos Rodríguez as Sergio Pérez sent his home crowd wild with a second consecutive Mexico City Grand Prix podium finish in third place.
Max's fourth career victory in Mexico came at the end of a flawless drive from pole position that saw the Dutchman lead all but 10 of the 71 laps, with his only spell away from first place coming during the only pit stop phase of the leaders' race. Max also maximised a perfect race strategy of soft to medium tyres to outpace Mercedes' medium to hard race to cross the line with 15 seconds in hand.

Discussing his win, driver Max Verstappen said: "The first stint of the race was critical today and we managed to stay in the lead after turn one. We were obviously on a different strategy to the cars around us and we had to look after our tyres a lot. We had quite good pace on the soft tyre even though it wears a bit more, we then drove the medium to the end.
"Winning 14 races in a season is incredible, we're having an amazing year as a Team and that's the most important thing. We keep on pushing and we want to win as many races as possible, it's really special what we are all achieving together this year."
At the race start, Max got away well on soft tyres to comfortably take the lead ahead of Mercedes' George Russell and Lewis Hamilton who both started on medium compound rubber. As the Mercedes pair squabbled through turn two and Russell went wide at turn three, Checo was able to out drag the Mercedes driver on the run to turn four and he took third place.
At the front, Max settled into his first stint, though he was shadowed throughout by Hamilton. He managed to eke out a small but useful gap, however, and by lap 20 the Dutchman was 2.3s ahead.
Checo was the first of the front runners to pit on lap 24, taking on a set of mediums. There was a problem with fitting the rear left, however, and after five seconds of being stationary he got away and re-joined behind Charles Leclerc in P6.
Max, meanwhile, was radioing the pit wall to say that his front left tyre was dead. The Team brought the leader into the pits at the end of lap 25 and in a 2.5s stop he made the same switch as Checo to medium tyres. He emerged from the pit lane ahead of Carlos Sainz and began to hunt down the Mercedes cars. Checo, meanwhile, made light work of Leclerc and powered past the Ferrari driver under DRS into turn 12.
Hamilton and Russell now held the top two positions on their starting medium tyres with Max in third place, 14 seconds off the lead.
Hamilton made his first stop on lap 29, switching to hard compound Pirelli tyres as he targeted a run to the chequered flag, and he dropped to third behind Max. Checo then inherited fourth place when Sainz pitted at the end of the next lap and Mercedes brought Russell in for his sole stop at the end of lap 34.

After switching to hard tyres, Russell re-joined in fourth place, seven seconds behind Checo who was now third and a little over a second adrift of Hamilton, who was 10 seconds behind Max.

The second stint then became a tactical battle, with the Bulls protecting their medium tyres to the end and the Mercedes drivers banking on the durability of the hard tyres to give them a late advantage.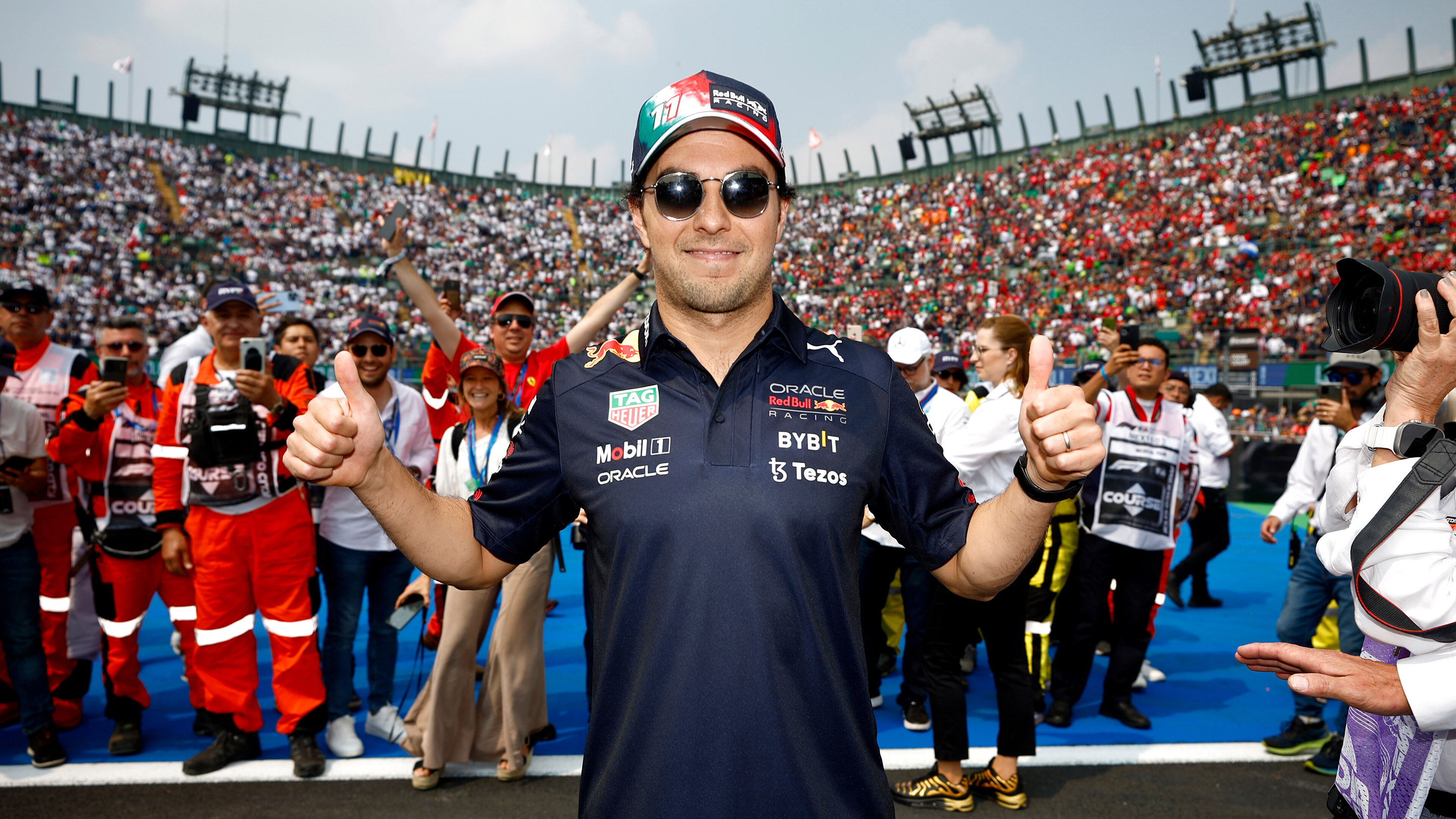 It never came, however, and the Bulls managed the pace perfectly, with Max gradually building a 12-second gap to Hamilton and with Checo sitting four seconds clear of Russell as they headed towards the final 10 laps of the race.
That gap stretched further when Alpine's Fernando Alonso steered off track with an engine issue on lap 66. The virtual safety car was released and when it ended on the next lap, Max profited from the timing to stretch the gap to 14 seconds. Checo, meanwhile, was a comfortable five seconds clear of Russell despite having put in more than 40 laps on his medium tyres.
Admitting defeat, Mercedes pitted Russell in the closing stages for a fastest lap attempt and on the final lap he stole the point from Checo, who had held it since the early laps of his second stint.
Talking through his race, driver Sergio Perez said: "It feels good to be on the podium but I wanted more today, I am a little bit disappointed. We could have finished second definitely but we had a poor pitstop, which really prevented us doing the undercut and being closer to Lewis. The hard tyre didn't work for him initially but once he got them going it just didn't work for me, then I was looking after my tyres and there was no more in them.
"We were planning to do a two-stop race but degradation was better than expected. This place in unbelievable, it is an amazing crowd here and I will never forget these moments because of the people.
"It is certainly, if not the best, one of the best crowds in Formula One - I am very privileged to have this support. I just want to go and win the next two races now, we have had the pace in the last few races, so now I just want to put it all together, cut out the small problems and then I believe we can do that."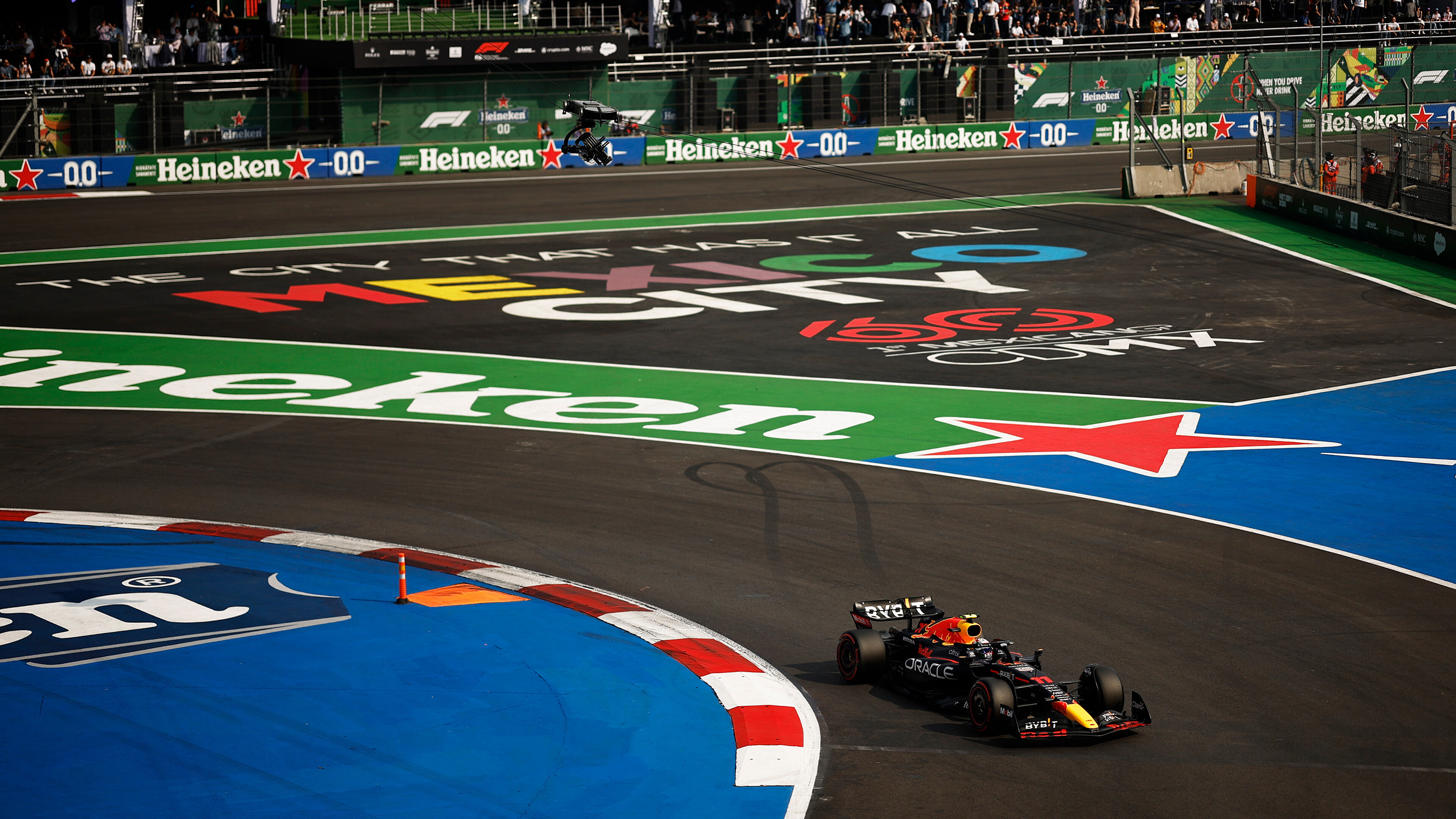 Max was in complete control and after 71 laps he crossed the line with 15.1 seconds in hand to claim his record-breaking 14th win of the season. Max's victory also gave the Team its ninth win in a row, matching their record for consecutive wins set in 2013. To add to the statistical haul, Max's 25 points put him on 416 points for the season so far - the most scored by a driver in a season in F1 history.
Commenting on the race weekend, Team Principal Christian Horner said: "Both drivers were impeccable today and we got our strategy absolutely right. The soft and medium tyres were definitely the quickest.
"After both drivers' first pitstop, we saw that the tyres were in really good shape so it was a no brainer to put on the mediums. Checo had a little bit of trouble with his pitstop, but his recovery was phenomenal and to see both drivers on the podium is incredible.
"We are pleased we got it right today and of course, Max was truly remarkable. Frankly, Max is racing to another level, he's raised the bar so high all season and to break the record with 14 race wins is extraordinary, especially with a couple of races still to go. He deserves all the plaudits that are coming his way and his drive today demonstrates his maturity and ability to read a race and control it in a very convincing manner."
Max's victory in Mexico was his 14th of the 2022 F1 campaign, handing him a new record for the most wins in a single season ahead of fellow greats Michael Schumacher and Sebastian Vettel, who won 13 races in 2004 and 2013 respectively.
For Checo, the race not only earned him another podium finish in front of his home crowd but handed him back second place in the Drivers' Championship with 280 points, five ahead of Ferrari's Leclerc with two races to go.