The road to the title
It's often said that the mark of true champion is not in winning a championship but in repeating the feat, and in 2022 Max has not only doubled his title tally, he's done it in style – wrapping up a second crown with four races in hand, putting the Dutch driver in exalted company with only Nigel Mansell, Michael Schumacher and Sebastian Vettel being crowned with four or more races left in a season.
Teething Troubles
Max's march to his second title hasn't all been plain sailing. As F1's new era of competition dawned, the all-new RB18, built to a radically altered set of technical regulations that brought back the ground effect, proved to be a fast but fickle beast.
One of the major changes was the introduction of E10 fuels. In line with the new 2022 regulations, ExxonMobil developed a new Esso Synergy E10 Race Fuel in collaboration with the team.
The new race fuel contains a higher percentage of sustainable content, similar to road legal gasoline . The change had been widely expected to trigger a drop in power however ExxonMobil has bridged the gap to ensure there was no drop in engine performance from last season. It combines with an advanced Mobil 1 lubrication package to ensure maximum efficiency and performance of the car.
However, at the opening round in Bahrain, Max struggled with brakes issues, which forced him to back out of fighting Ferrari's Charles Leclerc, then a steering wheel issue after his final pit stop forced him to retire from the race. "At the end of the day, motorsport is unpredictable and these things can happen, this is race one, we have plenty more ahead of us," Max said afterwards.
Despite the opening round woes, Bahrain had clearly drawn the season's battle lines.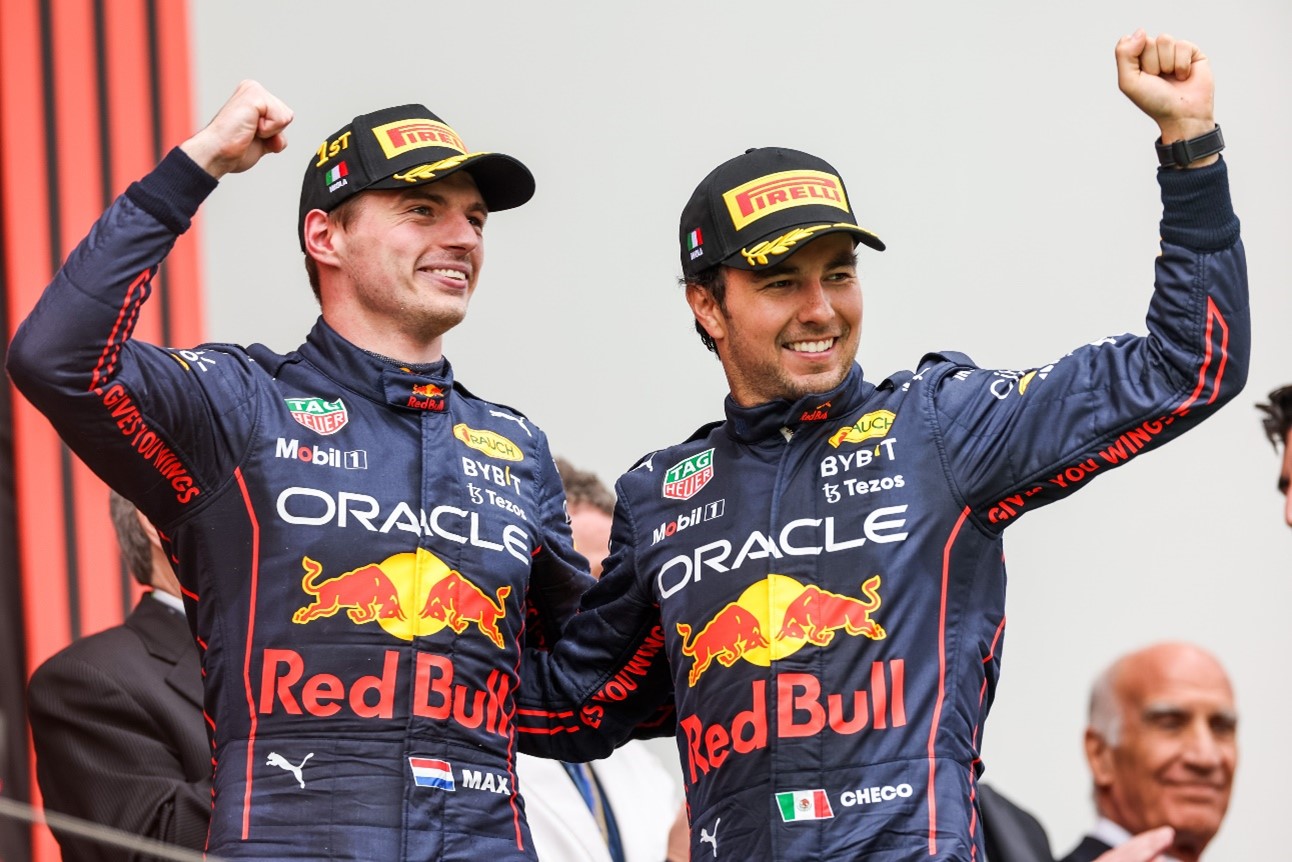 Back to the Front
The proof of that was delivered a week later in Saudi Arabia. While Checo went quickest in qualifying to take an imperious career-first pole position, Max was forced to settle for fourth place on the grid behind the two Ferraris.
In the race, though, the defending champion was again exceptional and when Checo dropped back due to an ill-timed safety car, Max battled through to second behind Leclerc.
And with just under 10 laps to go he attacked. What followed was a textbook demonstration of Max's relentless pace as he again battled with the Ferrari driver across six laps of stunning wheel-to-wheel action. And this time Leclerc couldn't resist the onslaught. On lap 47 Max closed in and swept past to seal the lead and his first win.
Reliability issues would again hamper Max's progress at the next round in Australia and his race ended after just 38 laps. Leclerc took a second win of the season to lead the title race with 71 points, 46 clear of Max. "The gap is already pretty big," Max said. "It doesn't look like there is an easy fix so we need to work hard as a Team."
This is where ExxonMobil can directly help the team. Our employees are assigned to the team and travel to every race. They ensure consistency and quality of our lubes and fuels, importantly guaranteeing they comply with FIA Regulations.
They conduct this analysis at the travelling ExxonMobil Tracklab, a state-of-the-art mobile laboratory that provides critical data to improve the Esso Synergy Racing Fuels and Mobil 1 Lubricants, an important part of the Oracle Red Bull Racing pit garage at every race.
The ongoing work of ExxonMobil's Trackside Technicians leads to incremental increases in engine reliability and horsepower by continuously analysing race fuel and used engine oil.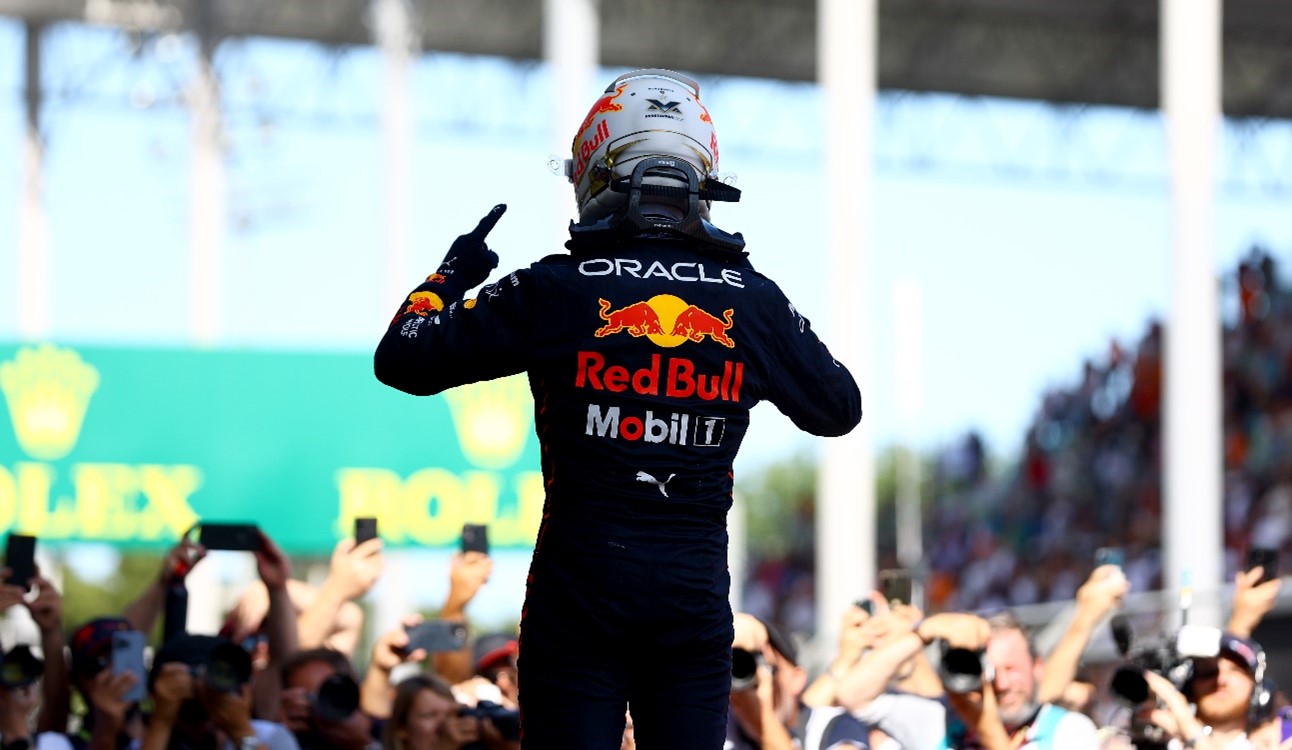 Max's Sunday Service
The hard work soon paid off. At Round 4, in Imola, the first sprint weekend of the season, Max and the Team delivered a masterclass performance. Max qualified on the front row behind Leclerc for the Sprint. And in the 21-lap Saturday race, as tyre degradation kicked in for Leclerc, Max closed in and powered past to take the eight points on offer and P1 for the start of the Grand Prix.
It was a similar tale when it came to race day. Max stormed into a strong lead and when tyre degradation hampered Leclerc, Ferrari gambled and put the Monegasque on soft tyres to try to reel in Max. Pushing to close a gap Max had under control, the Ferrari driver spun and finished sixth. Max took a controlled win ahead of Checo to seal the Team's first one-two win since the 2016 Malaysian Grand Prix. Leclerc still led the standings with 86 points, but Max, with 59, was now just 27 points behind.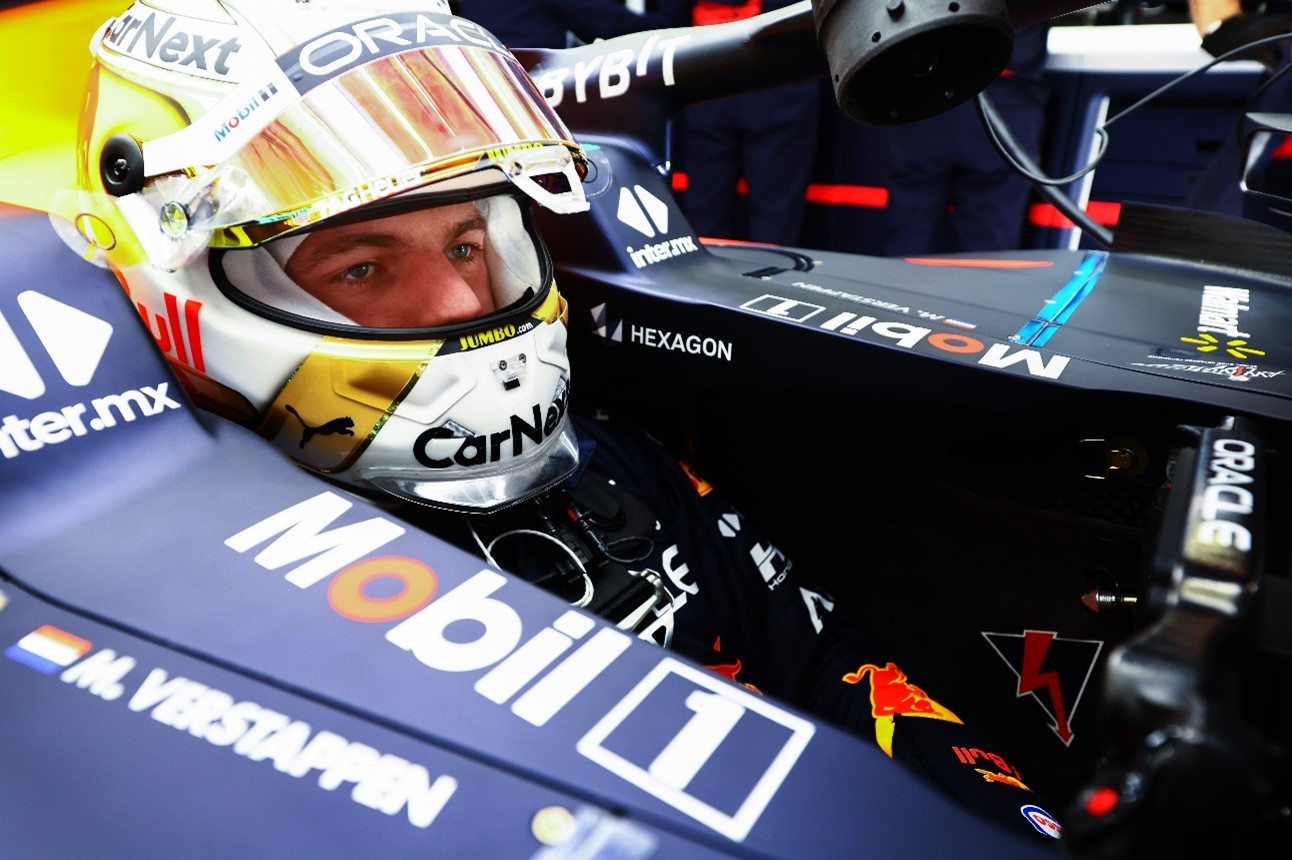 A Lighter Fighter
Wins in Miami, Barcelona, Baku and Montreal, gave Max a phenomenal six wins from the first nine races and a 46-point lead in the Championship. But it wasn't just Max's evolving adaptation to the RB18 that put him in a comfortable standings lead. Back at the factory, the Team's relentless pursuit of performance was paying dividends.
The new cars were significantly heavier than their predecessors and early in the season Max had frequently referred to the weight making the cars slower, more sluggish in slow corners and with a tendency for understeer. In short, the RB18 needed to go on a diet.
The focus at Milton Keynes became shedding weight and dialling in a stronger front end to allow Max to rotate the car with more facility, using his superb car control to mop up any rear-end instability after the fact.
The seasonal development battle has been a key Team strength over the years and once again upgrades came in regular stages, with a particularly sizeable series of tweaks being delivered at Silverstone. And while the results didn't initially show it – Max failed to win in either Great Britain or at the Team's home race in Austria – the work done began to swing the RB18 to the Dutchman's liking and starting in France he embarked on an incredible period of dominance that would ultimately make the claiming of the title simply a matter of time.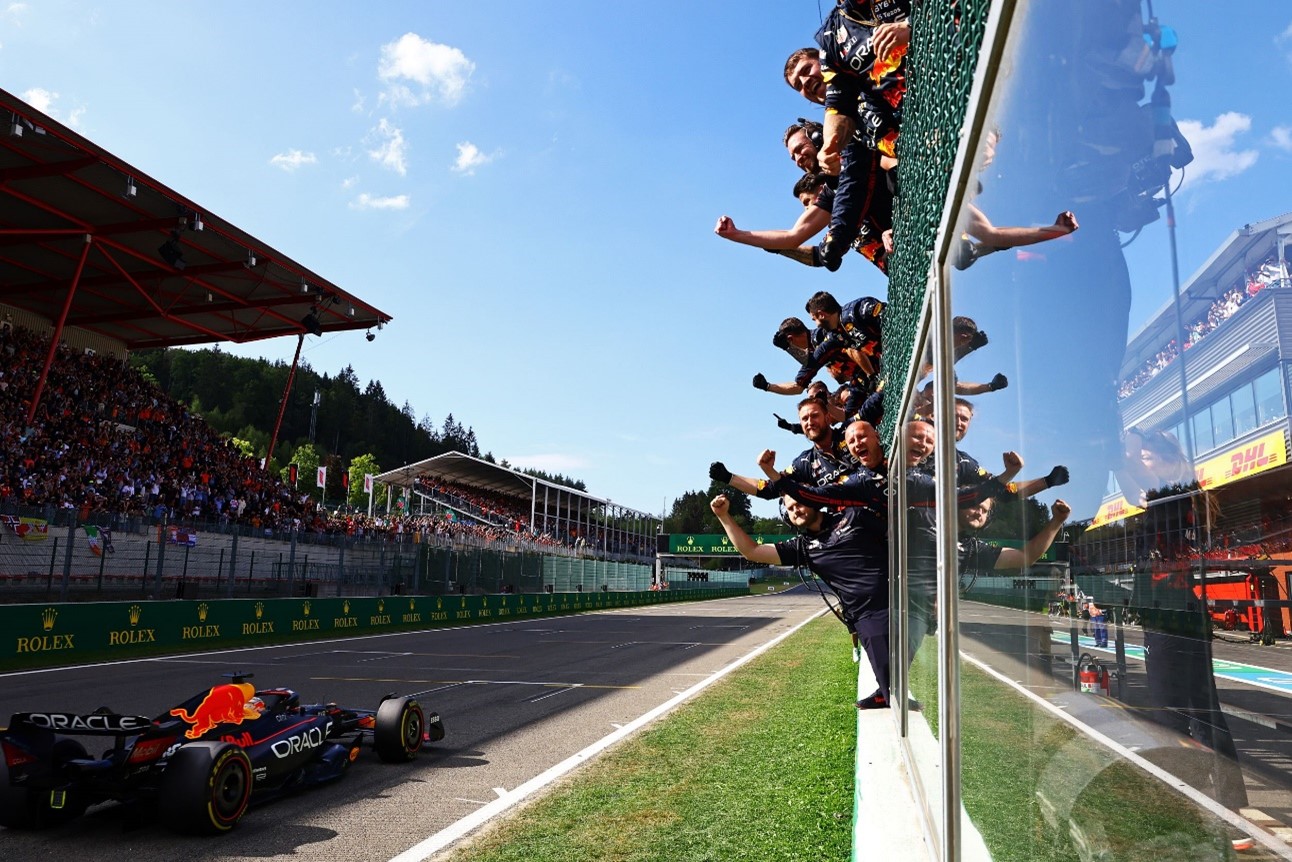 Unstoppable
Since the Austrian Grand Prix, Max went on a charge with five wins in a row, while Saturday pace continued to be elusive, with Max taking just two poles since Spielberg - Spa and Zandvoort. On Sundays Max has been unstoppable. In France he beat Mercedes' Lewis Hamilton to the flag by 10 seconds and in Hungary he roared from 10th on the grid following a Q3 technical issue to land a brilliant win ahead of Hamilton. In Belgium the Dutchman was utterly irresistible, climbing from a nominal 14th on the grid to take a stunning win. The Championship leader rose six places on the opening lap alone and claimed the lead after just 11 flawless laps.
"The car was on rails," Max laughed afterwards. "We picked the right places to pass and we could look after our tyres. Once we were in the lead, it was all about managing everything. This whole weekend has been incredible."
The victory in Spa left Max a whopping 93 points ahead of Leclerc at the top of the standings and led Team Principal Christian Horner to sing the praises of the title-bound driver.
"Max, since winning the championship last year, has taken another step. It has in many ways released him and he's driving at an incredible level. He is a driver that is completely at one with the car and is in an absolute purple patch of his career."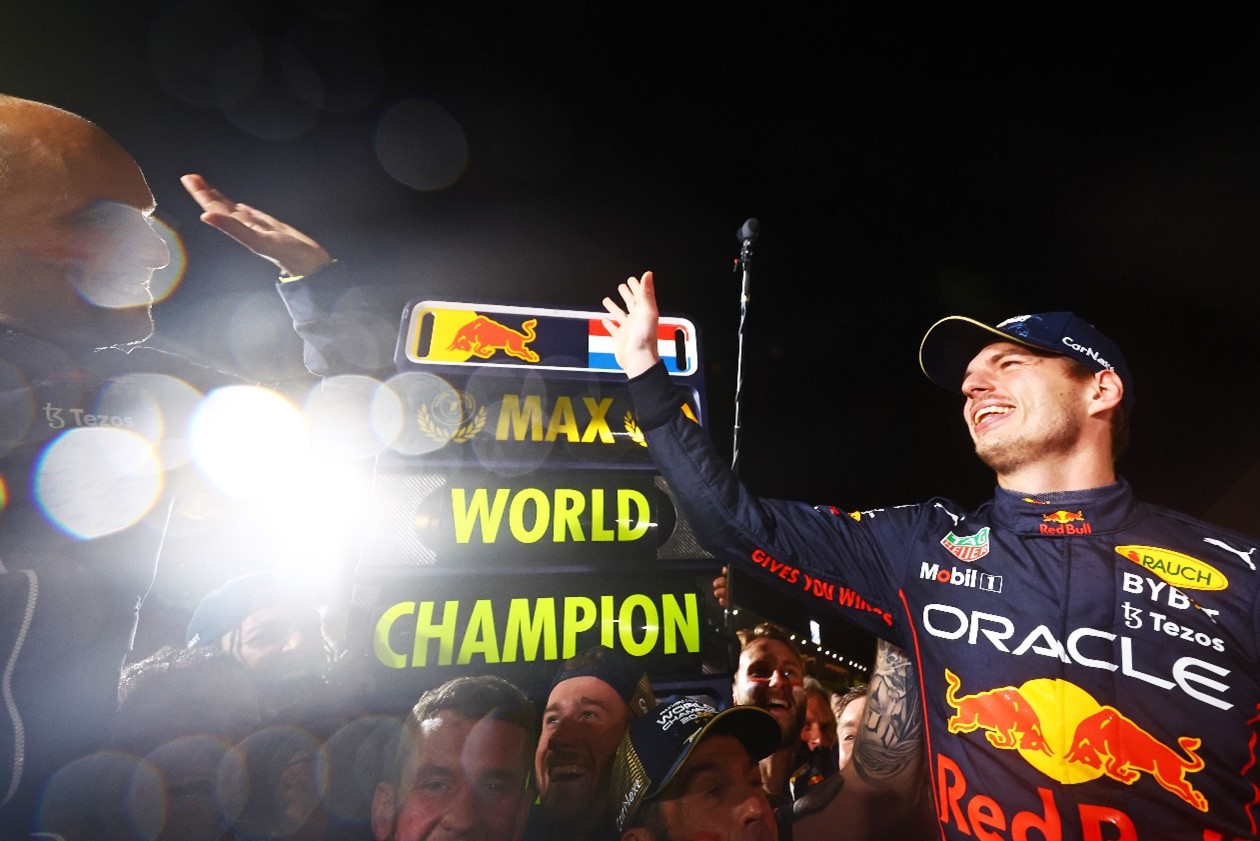 Simply Irresistible
Max has underlined that extra step with victories in Italy and Japan to claim his second World Drivers' Championship. The Dutchman's first championship was set against a backdrop of intense rivalry and razor-thin margins.
And while his second has been anything but serene, Max's second crown has been an emphatic demonstration of every aspect of his phenomenal skill set. Pace, power, race craft and race management – the Dutchman has been superlative in every area. Allied to a Team operating at the top of its game in every area, design, development, event preparation and race day strategy, his second title has been nothing short of exceptional. Twelve wins, two sprint race victories, 14 podiums in all, five pole positions and 366 points to date. Simply irresistible, simply lovely. Simply, a two-time world champion.