Bittersweet battle for Max and Checo at Red Bull Ring for Austrian GP
Max Verstappen narrowly missed out on a fifth Red Bull Ring victory, with the Dutch driver losing out to Ferrari's Charles Leclerc by just 1.5s at the end of a strategically tense Austrian Grand Prix. Sergio Pérez, meanwhile, had a disappointing afternoon on the Team's home turf as he exited the race after just 25 laps due to damage sustained in a lap-one collision with Mercedes' George Russell.
Starting from pole, Max raced into an early lead ahead of Leclerc, but suffering with more tyre degradation, the Dutchman was passed by the Ferrari driver on three occasions as the strategies played out and in the closing stages was being hunted down by Carlos Sainz in the second Ferrari. But when the Spaniard's engine failed, and the VSC was deployed, Max pitted for fresh medium tyres.
Leclerc then began reporting throttle problems, and chasing the win, Max closed in. However, despite his issues, Leclerc was able to cling on to the lead and after 71 laps he took victory just ahead of Max who claimed his eighth podium finish of the season.
Discussing his podium finish, driver Max Verstappen said: "We were just a bit too slow today, we were doing the best we could with the strategy but the Ferraris were extremely fast. Of course, we need to understand why we had so much degradation with the tyres, I'm not sure exactly what happened, no matter which compound we used none of them seemed to work well."
"Although we didn't win today, we still walked away with a lot of points. In difficult moments you need to score points and we did that today and it was incredible to receive the support I did from the fans this weekend".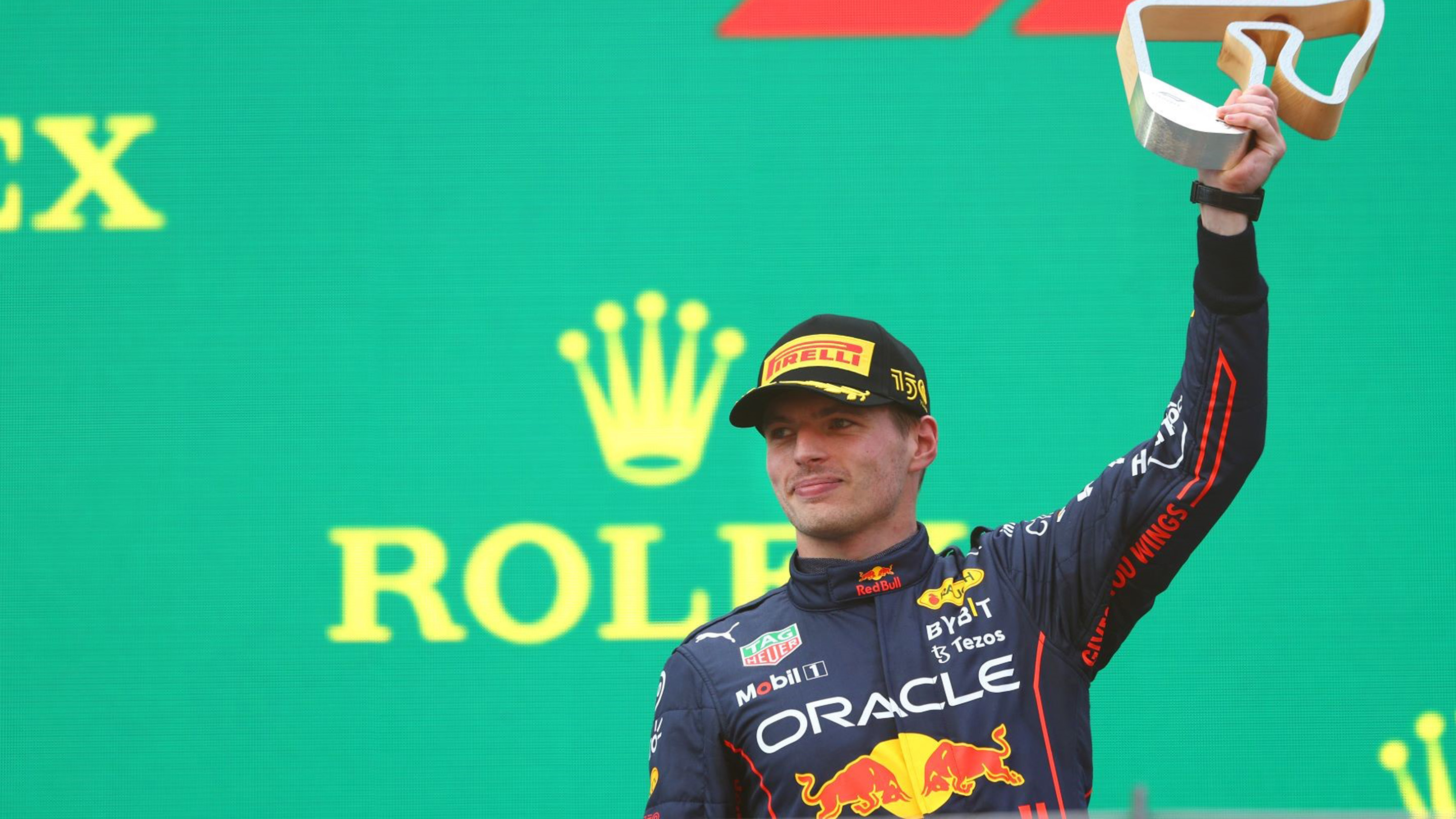 At the race start, Max reacted well and took the lead into turn one ahead of Leclerc. Pressured by Russell, Sainz went wide in the first corner but when he re-joined, he outpaced the Mercedes to turn three and retook P3. That battle allowed Checo, who had started fifth, to close in and into turn three he took a wide line around the outside to set up a challenge on Russell.
On the run towards turn four the Mexican drew alongside the Mercedes and he attacked around the outside, getting ahead of the Mercedes in mid-corner. However, as Checo turned in on the exit, Russell clipped the right sidepod of the Red Bull and Checo was pitched into the gravel trap.
The Red Bull driver was able to continue and swiftly pitted for hard tyres. He re-joined in last place. Russell was later handed a five-second penalty for causing the collision and the Mercedes driver then pitted for hard tyres and a new front wing.
At the front, Max began to eke out a gap but Leclerc responded to stay close to the Red Bull as the opening stint unfolded. On lap 10, the Ferrari driver closed in and attacked into turn three under DRS. Max defended hard to hold on and then had to defend again as Leclerc tried to go around the outside through turn four. The Dutchman was quickly on the radio saying that he couldn't maintain his pace on fading starting tyres and on Lap 13 Leclerc launched another attack into turn four. This time the Ferrari driver went down the inside as Max was forced wide and the lead changed hands. The Team immediately chose to pit the champion, switching to hard tyres. He re-joined in P6 behind Mick Schumacher and quickly made his way past the Haas driver before setting off in pursuit after Mercedes' Lewis Hamilton, who was behind Alpine's Esteban Ocon.
On lap 18 Max passed the Mercedes driver as they powered towards turn four and on lap 19, with Ocon pitting, Max took third place, 14s behind Sainz and 19s behind race leader Leclerc.
At the back of the field, Checo's race came to an end on lap 25. Hampered by damage from the clash with Russell at the start, Checo was struggling with a handling and after receiving a black and white flag for repeated track limits infringements, the Team called him to the pit lane where he retired from the race.
Discussing his rase, driver Sergio Perez said: "It was a big shame that we had our race ended so early. I had the whole race ahead of me and I thought I had good opportunities coming my way, so it was very painful.
"We had a lot of damage to the car and we were going nowhere so we had to retire. I gave all the room I could to George on lap one, there was enough room for both cars not to crash and unfortunately, we ended up colliding, I don't know what else I could have done.
"Today has hurt us in both Championships and hopefully we can recover the ground. It has been the same way all season, sometimes we are quicker and sometimes Ferrari are. It is still very close but today they were clearly the quicker car. We need to look forward now, the season is long and hopefully we can come back stronger in the coming weekends."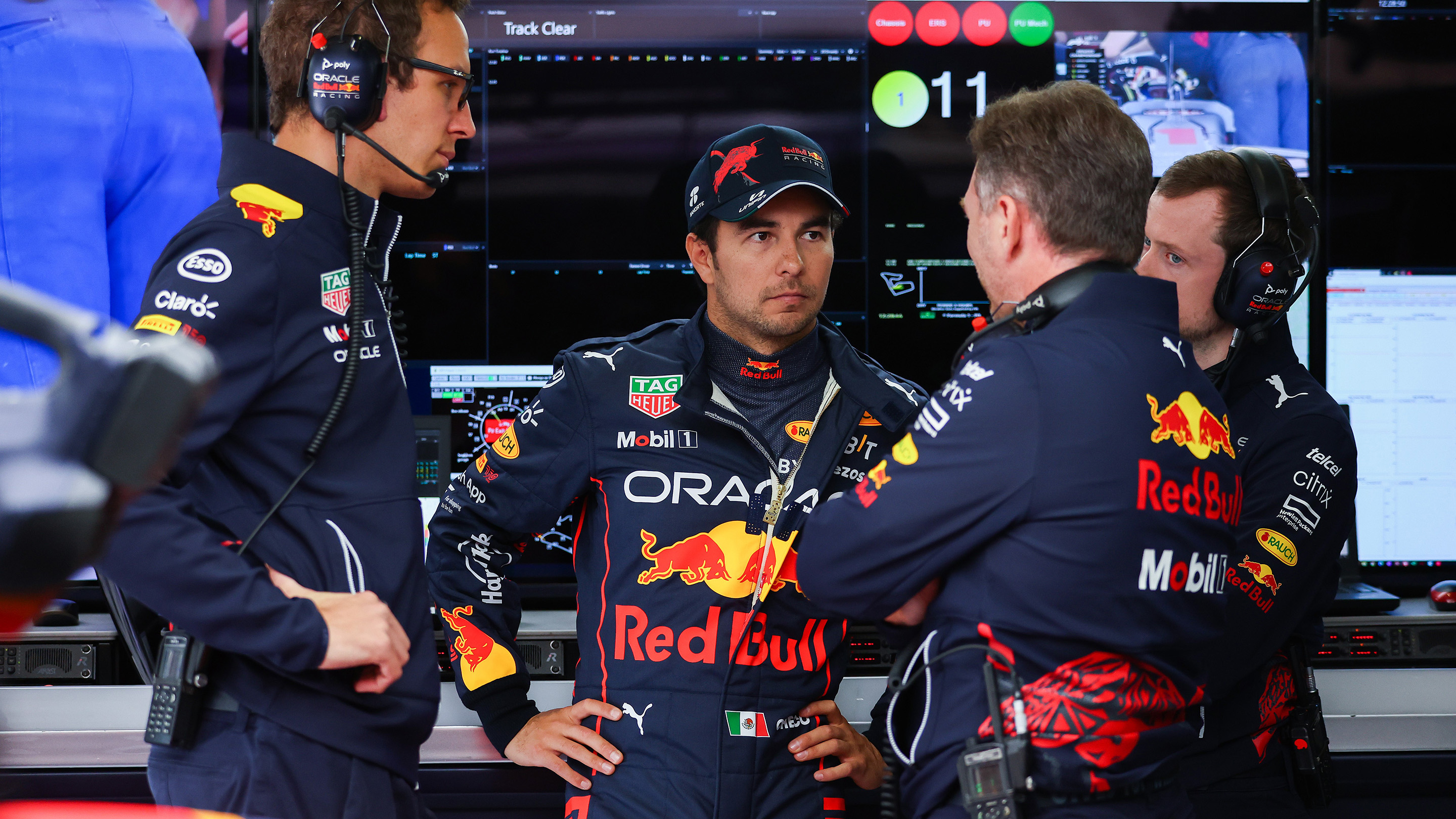 At the end of the following lap, Leclerc made his first pit stop from the lead, 12 laps after Max's switch. The Ferrari driver made the move to hard tyres and re-joined five seconds behind the Dutchman. Sainz followed his teammate with a similar swap a lap later.
Armed with fresher tyres, Leclerc closed in on Max over the following laps and on lap 33 he crept into DRS range of the race leader. And on the long run up the hill to Turn 3, with little resistance from Max, Leclerc flew past to retake the lead.
At half distance, the Monégasque driver had stretched to a three-second lead over Max, with the Dutchman just 1.4s ahead of Sainz. Hamilton held fourth place, some 25s behind the last podium position, with Ocon fifth ahead of the Haas cars of Schumacher and Kevin Magnussen.
At the end of lap 36, Max made his second stop of the afternoon, taking on another set of hard tyres. He re-joined in third place, 25.9s behind Leclerc and 19 adrift of Sainz, who was also shown black and white flags for track limits infringements.
Leclerc pitted at the end of lap 49 and emerged in third place behind Max. Sainz repeated the switch at the end of the following lap, and Max moved back into the lead, though just 1.5s ahead of Leclerc. The Monégasque driver, again on fresher tyres, quickly closed that gap and on lap 53 he went to the outside of Max into turn three, forcing Max to take a tight line. And lacking traction, Max was easily passed by the Ferrari driver as they exited the corner.
Sainz then began to close in on Max and on lap 57 he was inside DRS range. He tried to attack into turn three, but Max shut the door. Sainz put the power down to try to outdrag the Red Bull towards turn four, but halfway down the straight the Spaniard's engine let go and he was forced to pull over into an escape road. His car burst into flames and Sainz had to quickly exit as the Ferrari rolled backwards. Marshals were quickly on the scene to put a wedge behind the front right and the blaze was then swiftly extinguished.
The Virtual Safety Car was deployed and at the end of lap 58, Leclerc and Max pitted for medium tyres. Max was now just four seconds behind the race leader.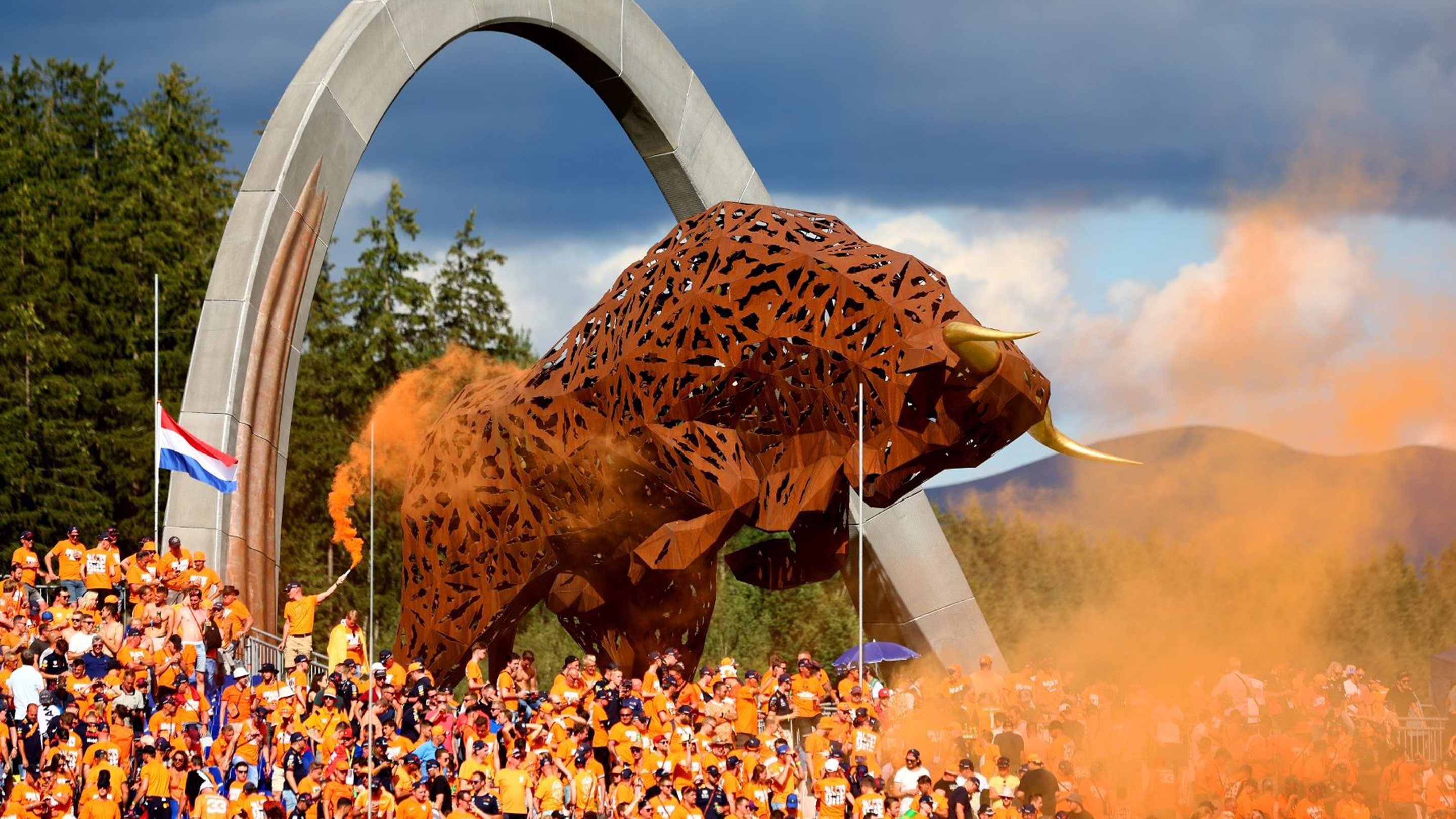 Ten laps from the flag, Leclerc reported an issue with his throttle pedal and Max was told to apply pressure. With five laps remaining the Red Bull driver was just 2.7s behind the Ferrari, but Max then hit traffic and though the time lost in making his way past the backmarkers was small it gave Leclerc the breathing space he needed and he was able to hang on to take victory just 1.5s ahead of Max. Hamilton finished third ahead of teammate Russell, while Ocon took fifth place ahead of Schumacher. McLaren's Lando Norris finished seventh ahead of Magnussen and the second McLaren of Daniel Ricciardo, and the final point on offer went to Fernando Alonso, though the Alpine driver was set to be investigated after the race for a possible unsafe release.
Commenting on the team's home race, Team Principal and CEO Christian Horner said: "We scored some really important points today but it just wasn't meant to be for us.
"Congratulations to Ferrari, although they were unlucky with Carlos, they had the faster car for the majority of the race which gave them more strategic options but Max's tyre deg was higher from halfway through the first stint and it was hard to combat that. Over the two races this weekend, we've only given away five points to Ferrari but obviously we're really disappointed for Checo today. There was so much damage to his car from George that there was no chance for him to score any points and we had to retire him and save the mileage.
"We'll do everything we can to bounce back in France, we're still ahead but we know how quickly things can change and we need to keep pushing."
As part of ExxonMobil's technical partnership with Oracle Red Bull Racing, Mobil 1 went behind the scenes to see the garage as it's never been seen before. Introducing ReDubbed presented by Mobil 1: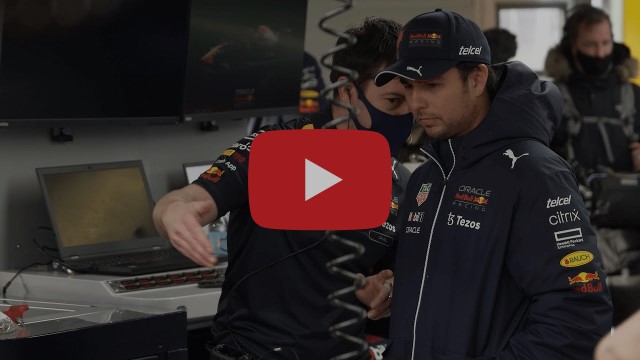 Red Bull still are in the lead of both championships at the season's halfway mark. Max leads second place Leclerc by 38 points on 208 in total, with Checo third on 151points. In the Constructors' Standings, Oracle Red Bull Racing lead Ferrari by 359 points to 303.
There is only two races now before the mid-season break and the team will be hoping to consolidate both the Drivers' and Constructors' Championship lead before the three week pause