The Singapore streets belong to Checo
Sergio Pérez battled race-long pressure from Ferrari's Charles Leclerc and overcame a post-race five-second time penalty to take a superb fourth career win at the Singapore Grand Prix after leading every lap of a dramatic race at the Marina Bay Street Circuit. Championship leader Max Verstappen, meanwhile, recovered from a late-race lock-up that dropped him to 14th place to battle back to seventh place at the flag.
Championship leader Max still holds a 104-point lead on rival Charles Leclerc who has gathered 237 points. Checo is currently third, just two points behind Charles. Oracle Red Bull Racing lead Ferrari by 137 points in the Constructors' Standings on 576 points.
Discussing his second win of the year, driver Sergio Perez said: "I am so happy to get this victory for me and my Team, it means a lot to me. I haven't been on the podium the last couple of races but I was always working under the radar and making big noises behind the scenes, so I am super proud of the performance today.
"Mentally it was tough and you had to stay alert for the whole race. It was super tricky in the conditions out there today and people underestimate how difficult it is to drive in those, going through the final sector was so hard.
"There was a bit of miscommunication with the safety car I think, he was going really fast in places where I couldn't keep up with him and then slowing where I could go fast. We were driving on slicks in the wet trying to keep the temperature and that is difficult. When they told me I was under investigation I just pushed like qualifying for 15 laps to get as big a gap as possible to Charles."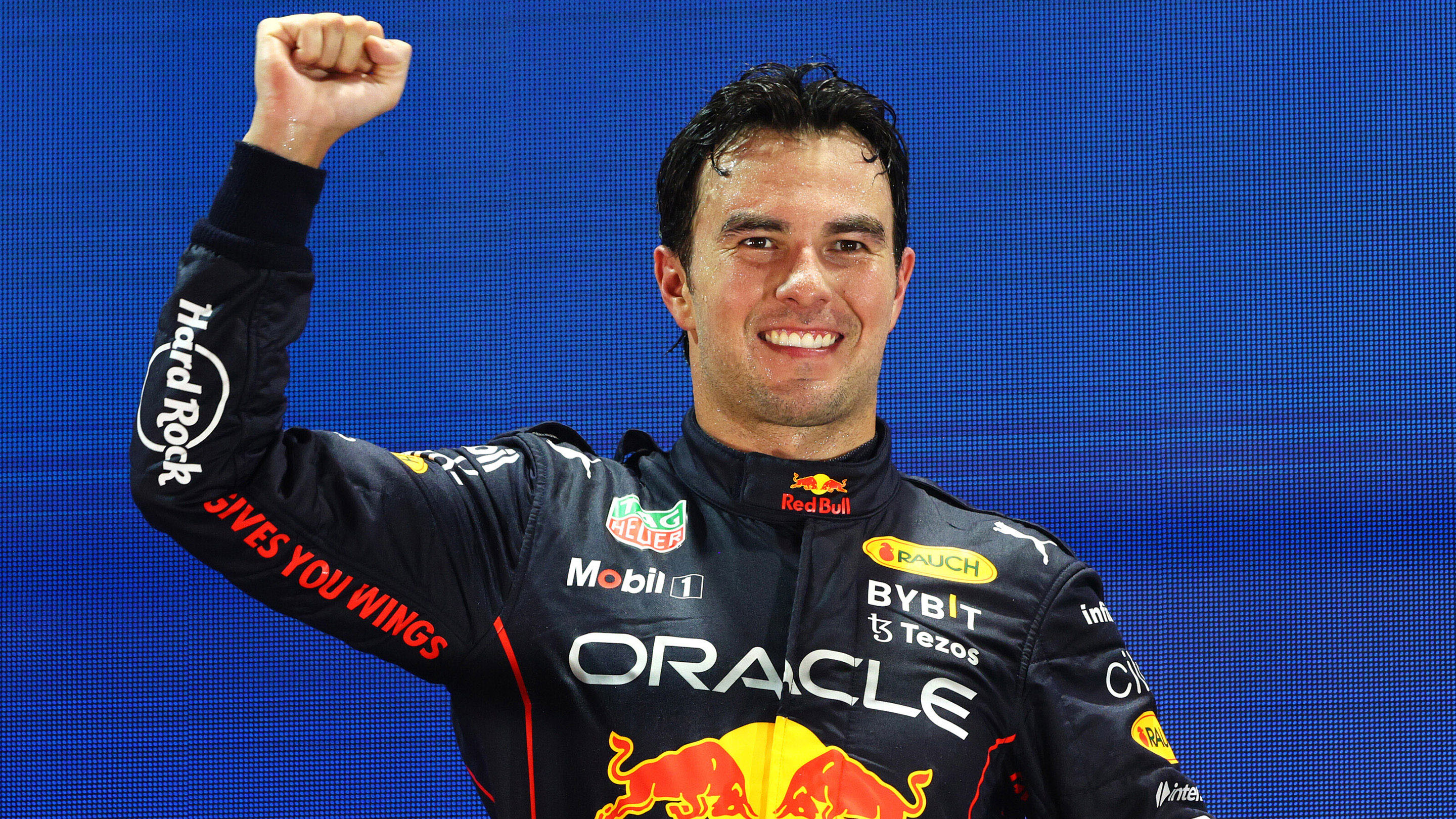 Talking through his race, driver Max Verstappen said: "First of all, well done to Checo today, he put in a great performance.
"From my side it was a frustrating weekend. The race didn't start off well, I had an anti-stall so I lost a lot of positions at the start. From there onwards, I got myself back into a reasonable position after switching to slicks, but when I wanted to go for the move on Lando I braked and I hit a big bump and bottomed out and locked up. I boxed for new tyres as I had a massive flat spot so I had to start all over again from the back.
"It's tough to pass people on this track, especially when we've all got our tyres up to temperature, so I was stuck for a while. It was good to get a few points but that's not what we are here for, time to focus on to Japan."
Commenting Checo's win, Team Principal Christian Horner said: "That was world class from Checo, it is right up there as one of his best drives. He was always fighting and even though he had a lot thrown his way he managed to stay on top.
"The safety car could have been a real stumbling block but how many times have we had to deal with a safety car lap and how many precedents are there? For us, this time, it really was a non-issue.
"The stewards took their time with it, but they reached the right decision. It would have been a incredible shame to have taken that victory away from Checo.
"It was a massive result for him and we are super proud of him. Conversely it has been a tough weekend for Max, he had a lot against him today and while he was very patient, it did not go his way. He kept having to attack the field from some distance, then he spun, then had to pit, then attack from behind again.
" He was always fighting though, even down to those last few laps. It was a shame but that shouldn't detract from a spectacular drive form Checo."
The team's next race is the Japanese GP at Suzuka where Max will be aiming to win the Drivers' Championship. The Dutchman would need to gain eight points on Leclerc - the difference between a win with fastest lap and second place - and 10 on Perez to clinch the title at Suzuka on Sunday.