Research and innovation
Chemical
ExxonMobil develops and produces a range of advanced products that reduce GHG emissions and improve sustainability.
Powering Progress
Demand for chemicals grows

Demand for auto parts, housing materials, electronics and other products made from plastics and other petrochemicals continues to grow. Rising U.S. natural gas production has boosted supplies of ethane, a natural gas liquid raw material used to make plastics, enabling investment in U.S. chemical manufacturing and exports. ExxonMobil continues to develop technologies that reduce carbon emissions. For example, we produce a range of advanced products — such as lightweight plastic packaging materials — that help manufacturers reduce energy use, emissions and waste.
Research and development highlights
~75%
increase in the plastic makeup of cars expected by 2020
10%
reduction in vehicle weight can improve fuel economy by as much as 7%
One of the world's largest chemical companies
We manage a portfolio of commodity and unique performance products that provide the building blocks to meet growing global demands for essential products, creating innovative solutions that improve every touchpoint of people's lives.
We are committed to reducing global energy consumption, emissions and waste — doing more with less to make modern living more accessible than ever.
As global prosperity rises, demand for chemical manufacturing will increase by 45 percent in 2040. We are working to meet that growing demand safely and responsibly, with a renewed focus on integrity, quality, innovation and sustainability that will enrich people's lives while enabling success in our communities.
Read more about ExxonMobil Chemical
Business lines
ExxonMobil Chemical
Our mission is to provide quality chemical products and services in the most efficient and responsible manner to generate outstanding customer and shareholder value while remaining committed to the principles of sustainable development.
Visit our site
Consumer demand propels chemicals growth
Index, 2000=100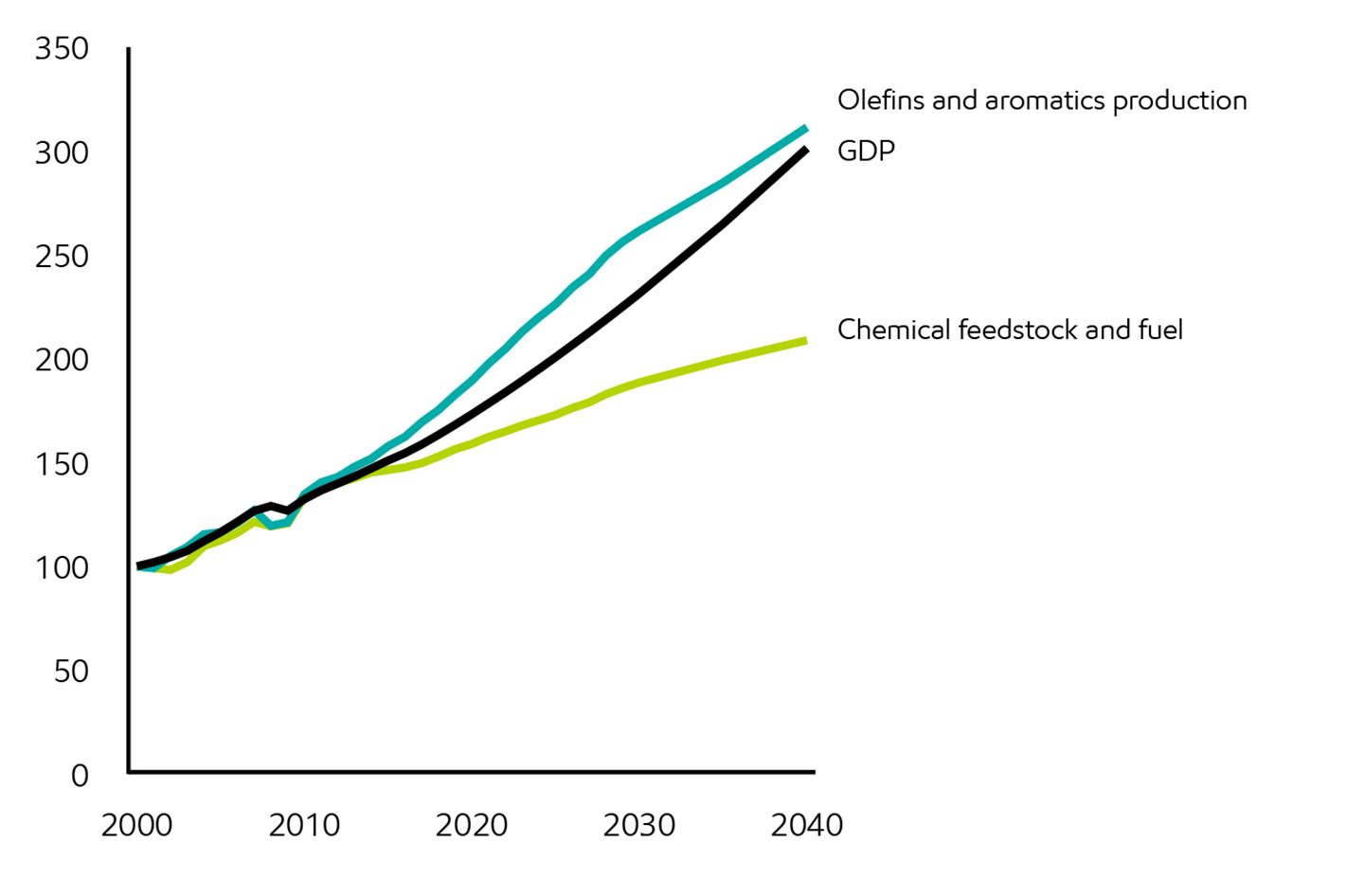 A foundation for innovation
At ExxonMobil, we're rethinking what's possible across automotive performance, packaging design, hygiene comfort and appliance appeal. For instance, our petroleum-based polymers are already used in vehicle braking systems, bumpers, paneling, weatherseals, automotive lubricants, fuel additives and even battery cases.